Hotels to remember: Siena



Siena: introduction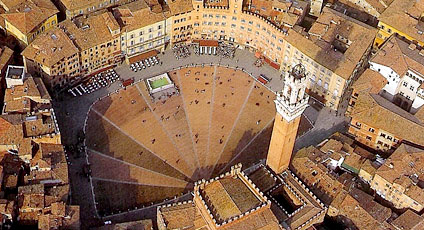 Siena is reknowned, both nationally and internationally, for the Palio horse race contested by the 17 contrada which divide this small city. But Siena is also unique thanks to its maze of narrow streets, its numerous towers and elegant town houses, the immense Piazza del Campo and the Cathedral which dominate the heart of the Medieval city encircled by impressive walls.
Those living in Siena enjoy an incredibly high quality of life. It is also the first city in Italy to close its center to traffic. As far as culture is concerned, Siena has been a city of great artistic significance since ancient times with internationally acclaimed institutions such as the Chigiana Musical Academy, the Accademia dei Fisiocritici and Accademia degli Intronati, as well as the University for Foreigners.
Sites not to be missed: the Church of St Domenico, the Church of St Francesco, the Diocesan Museum of Sacred Art and Palazzo Salimbeni which houses important frescoes. The surrounding countryside is superbly peaceful with vineyards, olive groves, medieval hamlets and castles. The gastronomic traditions have gained international fame with the sweet Panpepato, Ricciarelli and Cavallucci being exported throughout the world.
Siena: suggestions from the hotels
Relais La Costa Dimora Storica
(General Manager)
Historical Residences

Historic Residence in Toscana, Near Siena, Monteriggioni & Chianti. In the heart of the Montagnola wood, full of silence, peace and exclusivity, with amazing views over the Sienese hills, private Spa, restaurant and pool (Relais La Costa) →

There's no place quite like this: a finely conserved 13th century hamlet transformed into a hotel. An authentic Tuscan treasure chest custom-made for lovers of sport, wine and wellness. (Toscana Laticastelli Country Relais) →
Stefania Vannozzi
(Proprietaria)
Countryside Residences

"Farm Armena " an ancient farm in 1500, is located in Buonconvento ancient village in the heart of the Crete Senesi, breathtaking scenery, vibrant colors and characterized by cypress trees along the avenue of entrance (Fattoria Armena) →
More suggestions and useful addresses
Siena: places to see in the area