Hotels to remember: Cortona
Cortona: introduction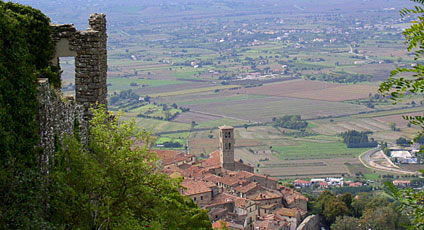 A small town which continues the traditions of its historical past. Writers of antiquity such as Erodoto, Polibio, Dionigi and Alicarnasso wrote of Cortona. It is only town of the Valdichiana area to have survived intact the bombings of the 2nd World War. Its striking historical center rests on the sharply terraced slopes of Monte Egidio.
The Etruscan Academy of Cortona testifies to the past presence of archeologists and writers such as Ridolfino, Marcello and Filippo Venuti. Then there are the frescos of Fra Angelico.
Cortona hosts a wealth of cultural and popular events linked to past traditions such as the National Copper Fair and numerous exhibitions, conventions and performances organized by the Etruscan Academy Library.
Worthy of mention are the Festival of Cortonese Gastronomy, the Consiglio dei Rioni, the National Chianina Cattle show, and the fairs organized for the promotion of Tripe, Bruschetta, Snails, Frog, Trout and Liver.
Cortona: suggestions from the hotels
Lina Bartelli
(Marketing Manager)
4 Star Hotels

If you want to taste the best of history, art and eno gastronomic excellences, Cortona is your goal!... inthe heart of Tuscany but also close to Umbria it's the perfect place to visit the best of both regions. (Relais il Falconiere) →
Lina Bartelli
(Sales & Marketing Manager)
4 Star Hotels

Qualunque sia il tema della vostra vacanza in Toscana, la Locanda è il posto giusto: per godere delle bellezze della campagna intorno a Cortona, per gustare i sapori veri di piatti semplici ma ricchi di tradizione. (Locanda del Molino) →
Cortona: places to see in the area