Hotels to remember: Crete Senesi
Crete Senesi: introduction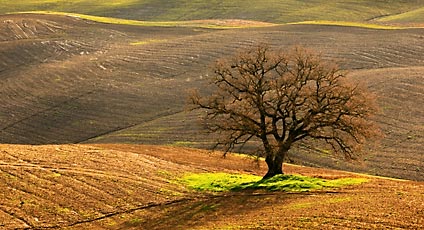 Close to Siena one finds a spectacular and truly unique landscape with a marvelous clay soil. The Crete Senesi is a land scattered with churches, castles and small medieval villages. The main town of the area is Asciano; here visitors can admire the Museum of Sacred Art, the Civic Archaeological Museum in Palazzo Corboli and the Abbey of Monte Oliveto Maggiore.
For those interested in traditional crafts, the Crete Senesi is home to numerous workshops where terracotta is transformed in to works of art following traditional techniques. Surrounding the grey Crete Senesi one finds expanses of green countryside, the vineyards of Montalcino, lush meadows and fields full of Sunflowers.
Gourmands will find plenty to satisfy the palate: Pecorino Cheese, white and black Truffles including the most prestigious Truffles from the San Giovanni area, the artichokes of Chiusure, honey, and the world famous red wine, Brunello di Montalcino, The grappa made with the Brunello grapes is quite simply superb.
Crete Senesi: suggestions from the hotels
Antonella Cappelli
(Host)
4 Star Hotels

Colle di Val d'Elsa is a place to discover and enjoy each season of the year. We want our clients live a real "Tuscan Experience" in our Relais, the ancient residence of Cardinal Giuliano della Rovere. (Relais della Rovere) →
Daniela Berlingozzi
(concierge)
Farmhouse Holidays

Charme & Relax between Siena and San Gimignano. The three adult friendly holiday rental apartments were designed to exalt the traditional beauty of Tuscany through the eyes of a modern & elegant decor."A place of contemplation and silence" (La Pieve Casale di Charme) →
Neri Guicciardini
(Proprietario)
Historical Residences

Situated in the heart of the Tuscan hills, Gargonza is a thirteenth-century fortified village reminiscent of the toys forts that children enjoy building on the floor, spending hours moving around the tower, the wells or the castle walls. (Castello di Gargonza) →
Crete Senesi: gourmet addresses
More suggestions and useful addresses
Crete Senesi: places to see in the area