Hotels to remember: Prato
Prato: introduction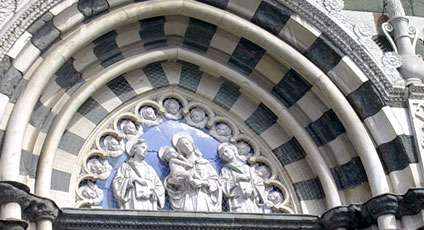 For the visitor to Tuscany a trip to Prato is unmissable. It is a city which preserves the traces of each and every historical period, from the prehistoric age to the Etruscan, from the Middle ages to the Renaissance. The Etruscan Archeological Museum, the Etruscan city of Prato, Palazzo Comunale, Palazzo Pretorio, the Basilica Cathedral of St Stefano, the Conservatory and Monastery of St Niccolò, are just a few of the sights worth visiting.
Then there is the Art route, through the center of Prato, which can be covered on foot and guides visitors to all the monuments and most important places of artistic interest. For those who love nature, there are beautiful places to be explored by mountain bike or on foot.
There are areas dedicated to golf, horse riding and fishing, as well as the numerous farms offering hospitality. The town's oldest and most important event is the Fair of Prato with the Procession of the Sacra Cintola della Madonna and parade in period costume, not forgetting the Palio Race of the Carmignano Donkeys and the Oste historic renaissance procession. In addition there are numerous gastronomic and wine fairs.
Prato: suggestions from the hotels
Paolo Ducceschi
(Proprietario)
Historical Residences
Villa Parri is a historic charming residence, nestled in the tuscan countryside, close to the main artistic cities as Florence and Lucca. With us you can live many experiences at the same time during a five star holiday in Tuscany. (Villa Parri) →
Lorenzo Bulleri
(Proprietario)
4 Star Hotels

Because Florence is a special city in the world, it's the cradle of Renaissance and also Unesco World Heritage. The city center is a very piece of art. (Marignolle Relais & Charme) →
Prato: places to see in the area