Most clicked hotels
(last 30 days)
ItalyTraveller - 100% Pure Inspiration
Last 30 days
Travel ideas: Trentino Alto Adige
Trentino Alto Adige: suggestions from the insiders
Verena S.
(Segretaria)
5 Star Hotels
Because we are situated in the heard of the Dolomites, a UNESCO world heritage. In winter and in summer we are the ideal location for mountain lovers! (Alpenroyal Grand Hotel) →
Julia Senoner
(Responsabile Online )
5 Star Hotels
The Dolomites are renowned as a walker's paradise and prized for their sensational regenerative effects. The air at between 1,200 and 2,000 metres a.s. l. releases happiness hormones. Mountain of choices awaits you! (Hotel Adler Dolomiti) →
Romina, Christian e Monica
(hotel manager)
4 Star Hotels
Trentino and Val di Sole are authentic paradise among our wonderful nature. The right place to find out relaxation for your body and mind and the perfect destination for sport addicted and wonderful landscape seekers. (Monroc Hotel) →
Others
Trentino Alto Adige at a glance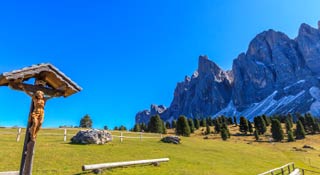 Trentino and Alto Adige: the two faces of a border land. Romantic like its alpine chalets, majestic like the Dolomite mountains, charmingly persuasive like its inhabitants.
Trentino Alto Adige is located in the far North of Italy and shares borders with both Austria and Switzerland. The region's Alpine climate ensures plenty of snow in the winter and refreshingly cool summer temperatures. This is a predominantly mountainous region, rich in alpine valleys, rivers and lakes and home to three Natural Parks: the Adamello-Brenta, Paneveggio-Pale of S.Martino and Stelvio, all of which provide the ideal habitat for numerous species of flora and fauna. The Italian Dolomites are ideal winter sports territory and, not surprisingly, Trentino boasts some of the best equipped ski resorts in Europe. The region is also home to a number of the world's finest hotels and restaurants.
Trentino Alto Adige: gourmet addresses
More suggestions and useful addresses