Most clicked hotels
(last 30 days)
ItalyTraveller - 100% Pure Inspiration
Last 30 days
Rome: suggestions from the insiders
Manuela
(Receptionist)
Luxury Suites and Penthouses
Rome is wonderfull in Spring , the spanish steps are full of flowers and You can fell the best Rome atmosphere of the year! (Residenza Ruspoli Bonaparte) →
Anna Passi
(Proprietario)
Luxury Suites and Penthouses

Charming location in the exclusive, green district of the centre of Rome, the Aventino. Surrounded by the most important monuments you'll live the more authentic Rome.ending your day enjoying a delicious dinner in your relaxing garden! (Villa Giulia Suites) →
Rome at a glance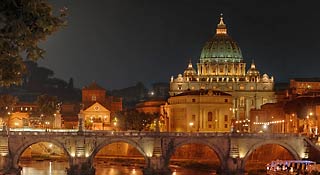 Ancient, renaissance, baroque, contemporary. Political, papal, passionate. Vivacious, frivolous monumental. Rome caput mundi.
Italy's capital city is, arguably, the most visited in the world. For many, Rome is first and foremost the political centre of the nation, for others it is primarily home to the Pope. All agree upon the importance of Rome in the development western civilisation.

Once the capital of the Roman Empire, the most powerful of the ancient western world, Rome has retained its impressive cultural, historical, and artistic importance and is still, centuries later, an important protagonist on the world scene. Here, every piazza, street, and alleyway records the history of Rome's glorious past, which is, needless to say, only a part of the city's charm. Ideally, Rome should also be experienced via the old quarters of Testaccio and Trastevere, where to savour the warmth of the people and the authentic soul of the "eternal city".
More suggestions and useful addresses