Hotels to remember: Pisa
Pisa: introduction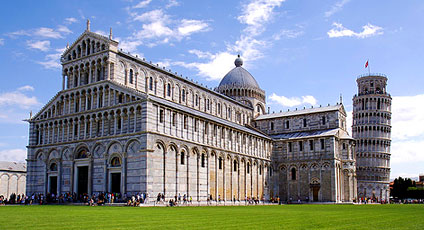 Since ancient times Pisa has been a flourishing city; a Maritime colony in the Roman period known for its conquests, to become one of the four Maritime Republics of Italy; powerful during the Middle Ages under the rule of the Medici who invested Pisa with the splendid architecture which survives in all its glory to this very day.
The most prevailing image is that of Piazza dei Miracoli where it is possible to admire not only the Baptistery, but also the Cathedral, the Walls of the Monumental Cemetery and the Leaning Tower, the latter a unique artistic treasure which has become an icon throughout the world.
Pisa has many more treasures worthy of note such as the numerous churches, the Porta di St Maria, the Museum of the Sinopie, the Cathedral Museum, the National Museum of St Matteo, Piazza della Sapienza, and the Botanical Gardens. The popular traditions of Pisa testify to the city's ancient and glorious past and promise to leave the visitor with lasting memories.
Pisa: suggestions from the hotels
Paolo Ducceschi
(Proprietario)
Historical Residences
Villa Parri is a historic charming residence, nestled in the tuscan countryside, close to the main artistic cities as Florence and Lucca. With us you can live many experiences at the same time during a five star holiday in Tuscany. (Villa Parri) →
Lorenzo Falaschi
(Proprietario)
Resort
Le Colombaie Country Resort is located in the heart of the Tuscan countryside and, at the same time, within easy reach of some of the most beautiful towns and cities in the region; places like Florence, Siena, Volterra.... (Le Colombaie Country Resort) →
More suggestions and useful addresses
Pisa: places to see in the area