Hotels to remember: Montalcino
Montalcino: introduction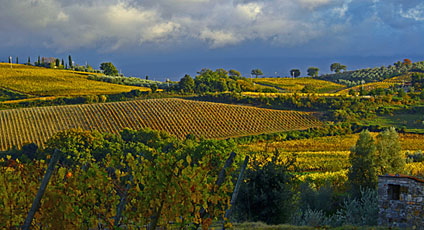 A center which could be defined as being immersed in a natural treasure trove made of enchanting landscapes similar to those found in the paintings of the 1300s. The long lines of vines have assigned Montalcino a prestigious position amongst Italian wine producers. The fabulous Brunello and Rosso di Montalcino are exported throughout the world and considered to be amongst the very best Italian wines.
Montalcino represents a wealth of history with its unchanged Medieval appearance: the Castle of Artigiano, the Castle Poggio alle Mura, the Romitorio Fortress and the Church of St Resituita, not to mention the Nearby Abbey of St Antimo. Culture and art are present in the United Museums which combine the Civic Museum and Diocesan Museum where one finds a host of frescos from the Siennese school of the XII and XIV centuries.
Visitors can also experience the popular festivals which represent historical traditions, such as the tournament for the opening of the hunting season, or the Festival of the Thrush, a spectacular event with processions, period costume and local gastronomy.
Montalcino: suggestions from the hotels
Gli Chef dell'ADLER
(Ristorante Gourmet dell'ADLER THERMAE)
5 Star Hotels

Walk and enjoy the amazing nature of the Orcia Valley, UNESCO World Heritage. More or 200 Km itineraries for walking or biking along panoramic paths with breathtaking views. (Adler Thermae) →
Giovanni P. Fiorentini
(General Manager)
Countryside Residences
Castle of San Fabiano is a perfect base for visiting Siena, the most well preserved medieval town in the world and to enjoy the amazing Sienese Clay Hills, the Orcia Valley and wine districts of Nobile, Brunello and Chianti, as well. (Castello di San Fabiano) →
Antonella Cappelli
(Host)
4 Star Hotels

Colle di Val d'Elsa is a place to discover and enjoy each season of the year. We want our clients live a real "Tuscan Experience" in our Relais, the ancient residence of Cardinal Giuliano della Rovere. (Relais della Rovere) →
More suggestions and useful addresses
Montalcino: places to see in the area