Hotels to remember: Elba island
Elba island: introduction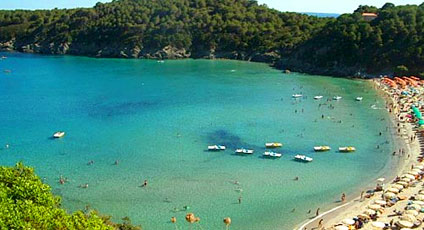 Set in deep blue waters, in the heart of the Tyrrhenian sea, one finds the island of Elba. With a number of splendid beaches, woodlands and Medieval villages, Elba is part of the National Reserve of Tuscan Islands.
There are a host of sites to visit: Villa dei Mulini, one time residence of Napoleon, the Linuella Archaeological Museum, the Museum of the Misericordia, the Elban Mineral Museum "Alfeo Ricci Collection", the Italo Bolano International Art Center, the Museum of Country Arts, the "piccola miniera" Mine and Etruscan Mine Museum, the Rio's Population Museum, the Rio Elba's Archaeological Museum, the Elba Mine Park, the Elba Aquarium and the Fauna Museum.
Archaeological sites include the Roman villas; delle Grotte, della Linguella, and Capo Castello. Elba has a number of castles and Palazzi, such as Volterraio Castle, the Pisan Fortress, the Church of St Michele at Capoliveri, the Church of St Giovanni in Campo and the Church of St Lorenzo at Marciana.
Elba island: places to see in the area