Hotels to remember: Chianti
Chianti: introduction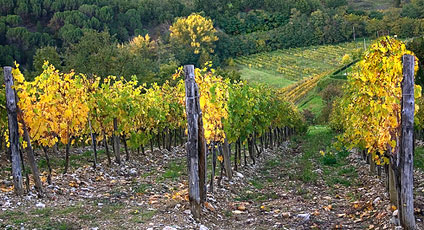 Its natural environment is its fortune: Chianti is a splendid countryside which stretches from Florence to Siena, over great expanses of vineyards resting on the hillside from where the famous red wine is exported throughout the world.
The region's game dishes of wild boar, quail and pigeon accompanied by wild mushrooms are as famous as the area's cold meats, Chianina beef and Cinta Senese pork. The countryside is also characterized by its olive groves which produce a highly acclaimed oil.
The Chianti region comprises numerous towns, all once Medieval settlements, with castles, villas, old mills, fortifications and farmsteads. Among the popular events, the Palio horse race of Siena is perhaps the best known, although the numerous smaller scale wine Festivals, markets, and concerts organized in the castles should not be missed.
Chianti is an unspoilt land with a patchwork of meadows and fields where the famous blue-violet Iris grow wild, (the flower which was chosen as symbol of Florence and used for centuries in perfumes). Articles in Terracotta are still produced by local craftsmen.
Chianti: suggestions from the hotels
Gli Chef dell'ADLER
(Ristorante Gourmet dell'ADLER THERMAE)
5 Star Hotels

Walk and enjoy the amazing nature of the Orcia Valley, UNESCO World Heritage. More or 200 Km itineraries for walking or biking along panoramic paths with breathtaking views. (Adler Thermae) →
Emanuele Marro
(proprietario)
Historical Residences

San Gimignano & movies locations For all "Cinema" lovers, reality and fiction in comparison!! Some well known titles... .Tea with Mussolini....Brother Sun Sister Moon....Obsession .... Prince of Foxes ..... Where Angel's fear to tread (Hotel L'Antico Pozzo) →
Neri Guicciardini
(Proprietario)
Historical Residences

Situated in the heart of the Tuscan hills, Gargonza is a thirteenth-century fortified village reminiscent of the toys forts that children enjoy building on the floor, spending hours moving around the tower, the wells or the castle walls. (Castello di Gargonza) →
Chianti: gourmet addresses
More suggestions and useful addresses
Chianti: places to see in the area