Hotels to remember: Chianciano Terme
Chianciano Terme: introduction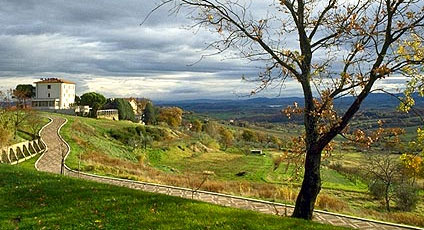 Chianciano Terme is sited upon a hill in Valdichiana and Val d'Orcia, on the border with Umbria, amidst unspoilt countryside. This town's fame is linked to the spa center. One of the most striking features of Chianciano Terme is that, within the center, there are a great many green spaces and a host of parks and public gardens.
The city is home to a number of elegant boutiques whilst, for those interested in the towns history, it is possible to visit the archeological sites of Etruscan origin such as the Necropoli de la Pedata, the Etruscan-Roman spa of Mezzomiglio, the Necropoli of Tolle and the Poggio Bacherai farmstead.
The Etruscan Museum of Chianciano Terme is one of the most important in Italy where it is possible to admire the Tempio dei Fucoli, the Canopi, the Pedata Bronzes, and gold and ceramics from the Terrosi collection. The number of excursions is endless and, on foot or on horseback, the visitor is able to enjoy to the full the beautiful countryside.
Chianciano Terme: suggestions from the hotels
Angelica Piccolomini Bandini
(proprietaria)
Historical Residences

Amazing views of the Tuscan hills; delicious local dishes combined with Brunello wine from Montalcino; plenty of art and history in all its villages. Welcome to this stunning region between the Orcia Valley and the Crete Senesi! (Borgo Lucignanello) →
Lina Bartelli
(Sales & Marketing Manager)
4 Star Hotels

Qualunque sia il tema della vostra vacanza in Toscana, la Locanda è il posto giusto: per godere delle bellezze della campagna intorno a Cortona, per gustare i sapori veri di piatti semplici ma ricchi di tradizione. (Locanda del Molino) →
Stefania Salvini
(Proprietaria)
Countryside Residences
Montepulciano is the pearl of the '500, walking through its streets you can see splendor lived during the Renaissance. The most evocative monument is the church of San Biagio and Montorio is located in front with a unique view. (Montorio) →
Chianciano Terme: places to see in the area