Hotels to remember: Viareggio
Viareggio: introduction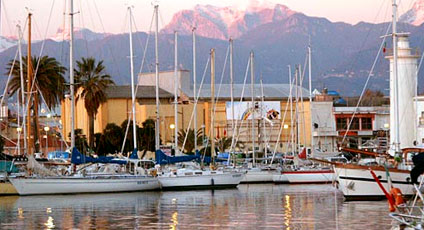 Known as "the pearl" of the Riviera della Versilia, Viareggio is internationally famous for the town's most important event of the year, the Carnival, which has been compared to that of Rio. But Viareggio is much more; a true entertainment capital, with its discotheques and clubs and the sea which, attracts thousands of bathers and funlovers to its shores each summer.
Viareggio is also famous for boat and yacht building. In addition to the craftsmanship linked to the sea, the town is also known for the sale of cut flowers. The finest architecture of Viareggio is in Liberty style, splendid examples of which are the Matilda Tower and Piazza Shelley.
The guided tours of Massaciuoccoli and Torre del Lago are a must. The town hosts many fairs such as that of St Giuseppe, the Fair of S.Annunziata, the Spring Fair and the Monthly Antiques Fair. The landscape of Viareggio is enchanting with its mixture of hills and green pinewoods edging the blue sea.
Viareggio: suggestions from the hotels
riccardo barsottelli
(gestore)
Guest Houses
for the exhibition of the mexican artist Gustavo Aceves named "Lapidarium" where you can find beautiful marble and bronze sculptures in the charming city of Pietrasanta. (Locanda al Colle) →
Lorenzo Falaschi
(Proprietario)
Resort
Le Colombaie Country Resort is located in the heart of the Tuscan countryside and, at the same time, within easy reach of some of the most beautiful towns and cities in the region; places like Florence, Siena, Volterra.... (Le Colombaie Country Resort) →
Viareggio: places to see in the area