Hotels to remember: Montepulciano
Montepulciano: introduction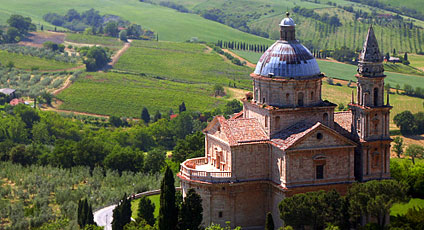 Without doubt Montepulciano has to be one of the most beautiful Medieval towns of Tuscany, resting at 600 meters above sea level protected by still impressively intact walls. Montepulciano is known for its noble Renaissance town houses and for the elegant architecture of its churches.
Among the many monuments to be admired: Palazzo Budelli, Palazzo Comunale, the Temple of the Madonna of St Biagio and the Church of St Agostino. All of the buildings are of great artistic significance and are linked to Michelozzo, Antonio da Sangallo and Pietro Budelli.
Montepulciano is also known for its fine wine, the Vino Nobile, much acclaimed internationally, and produced in the surrounding countryside. It is the home to many traditional events such as the summer Cantiere Internazionale d'Arte, the Bruscello, and the Bravio with period costumes and tournaments which evoke the history of Montepulciano.
Montepulciano: suggestions from the hotels
Angelica Piccolomini Bandini
(proprietaria)
Historical Residences

Amazing views of the Tuscan hills; delicious local dishes combined with Brunello wine from Montalcino; plenty of art and history in all its villages. Welcome to this stunning region between the Orcia Valley and the Crete Senesi! (Borgo Lucignanello) →
Francesco Cresti
(proprietario)
B&B and Homes

Monticchiello is located in the heart of Val d'Orcia, is a perfect starting point to visit the south of Tuscany. Pienza, Bagno Vignoni, Montepulciano and Montalcino are just some of the destinations that you can visit. (La Casa di Adelina) →

There's no place quite like this: a finely conserved 13th century hamlet transformed into a hotel. An authentic Tuscan treasure chest custom-made for lovers of sport, wine and wellness. (Toscana Laticastelli Country Relais) →
Montepulciano: gourmet addresses
Montepulciano: places to see in the area