Hotels to remember: Pistoia
Pistoia: introduction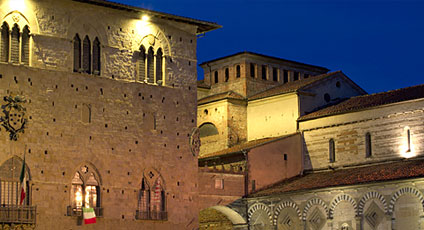 Its origins are linked to the Roman Empire, but like all the principal Tuscan towns, Pistoia's real development dates back to Medieval times. Of primary importance for its accumulation of wealth was its strategic position along the trans penine route.
Pistoia offers visitors a vast number of monuments to see: the series of three city walls, the Piazza del Duomo, Palazzo Pretorio, Palazzo Comunale, Palazzo Vescovile, the Capitolare Museum, the Forteguerriana Library, the Clemente Rospigliosi Museum, the Diocesan Museum, Palazzo Fabroni.
The ecclesiastic sites should not be missed: the Baptistery, the Cathedral, the Church of St Bartolomeo, the Church if St Pier Maggiore, the Church of St Paolo, to mention just a few of Pistoias religious buildings worthy of a visit.
The legacy of the artistic heritage is continued in two centers for study and artistic experimentation, the Marino Marini Center of Documentation and the Casa Studio Fernando Melani.
Pistoia: suggestions from the hotels
Paolo Ducceschi
(Proprietario)
Historical Residences
Villa Parri is a historic charming residence, nestled in the tuscan countryside, close to the main artistic cities as Florence and Lucca. With us you can live many experiences at the same time during a five star holiday in Tuscany. (Villa Parri) →
More suggestions and useful addresses
Pistoia: places to see in the area