Hotels to remember: Massa Marittima
Massa Marittima: introduction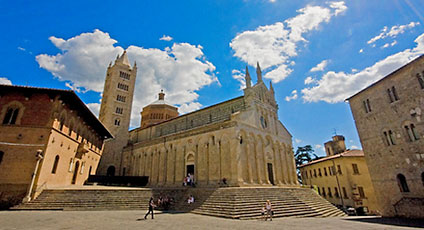 Despite its name, Massa Marittima is not located on the coast, but rather some 20 kilometers inland amidst the hills of Northern Maremma. More than deserving of its recent inclusion in the list of "the most beautiful towns of Tuscany", Massa Marittima's central Piazza Garibaldi is home to any number of artistic masterpieces. This is where the edifices which served as sumptuous seats of local government were built: the 13th century Palazzo del Podestà; the 14th century Palazzo Comunale, the construction of which entailed the incorporation of three 13th century tower houses; the Palazzo dei Conti di Biserno; and Palazzo Bandini, this latter now home to Massa Marittima's Archaeological Museum.
Dominating the Piazza with its beautifully ornate composition of arches and loggias surmounted by pinnacles, the town's Cathedral of San Cerbone was constructed between the 12th and 13th centuries in Romanesque-Gothic style. Behind the high altar, in the choir of the cathedral, the Arca di San Cerbone never fails to draw the crowds. This marble shrine, sculpted by artists of the Siennese School, was made to house the relics of St Cerbonius, Patron Saint of Massa, whose life story is again recounted in a series of base reliefs adorning the architrave of the façade.
Situated in the vicinity of the area's silver and copper mines, in centuries past Massa Marittima was often referred to as Massa Mettalorum. Two museums have been created so as to document the town's ancient mining traditions: the Museum of Art and Mining History and the Mining Museum, this latter partly housed in a disused mine shaft. Those keen to learn more about mining in Maremma, should join one of the guided tours of the National Technological and Archaeological Park of the Colline Metallifere Grossetane.
Massa Marittima: suggestions from the hotels
Irene Zannini
(Addetta web marketing)
4 Star Hotels
The Tuscany means many thinghs: art cities and medieval villages, crystal clear beaches and nature reserves, where you can forget everything. And then there are the wine tasti tours for a holiday of wine and good food (Golf Hotel Punta Ala) →
ANNA BARBERINI
(PROPRIETARIA)
Guest Houses

The Maremma is still a genuine land where the scenery is different and exciting . Nature is the mistress: a vast territory that in just 100 km offers wonderful sea and a mountain over 1700 meters high. Wine and local product are excellent. (Relais Vedetta) →
Massa Marittima: places to see in the area