Hotels to remember: Castiglione della Pescaia
Castiglione della Pescaia: introduction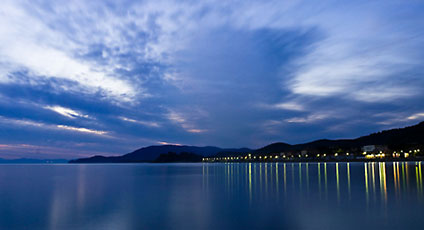 The sea and the Maremma. Castiglione della Pescaia is one of the most popular seaside resorts in the province of Grosseto. The name of this medieval coastal town, surrounded by the splendid natural landscapes of Tuscan Maremma and lapped by seas which have consistently been awarded the European Blue Flag, derives from its impressive 15th century Pisan-Aragon Castle (Castiglione), built on the outcropping of Monte Petriccio, and the Latin word for fishery (Pescaia), which recalls Castiglione della Pescaia's historic role as important fishing harbor.
Washed by the clean, warm waters of the Tyrrhenian sea, the sandy beaches of Castiglione will appeal to holiday makers of all ages; offering a choice of lively, fully equipped, bathing establishments and quiet, secluded beaches sheltered by coastal pine trees. Since the first tourists arrived on the Tuscan coast, Castiglione has been attracting a decidedly elite crowd. The Punta Ala fraction of Castiglione is particularly exclusive.
Punta Ala has one of the most modern and well equipped harbors in the whole of the Mediterranean (this is where Italy's "Luna Rossa" sail boat was manufactured), and its Golf Club is considered one of Italy's finest. Lying immediately behind the beaches, the thick pine forests are traversed by numerous bridleways, making the area ideal for horse riding. The night life of Castiglione is notoriously glamorous, and especially so during the summer months.
Castiglione della Pescaia: suggestions from the hotels
ANNA BARBERINI
(PROPRIETARIA)
Guest Houses

The Maremma is still a genuine land where the scenery is different and exciting . Nature is the mistress: a vast territory that in just 100 km offers wonderful sea and a mountain over 1700 meters high. Wine and local product are excellent. (Relais Vedetta) →
Raffaella Monaco
(Web Manager)
5 Star Hotels
A mild climate, a vast array of activities - from wellness, to gourmet, to sports, to beaches - and a striking land that stretches between Mediterranean coast and Tuscany's rolling hills: the ideal location for an unforgettable vacation! (Argentario Resort Golf & Spa) →
Irene Zannini
(Addetta web marketing)
4 Star Hotels
The Tuscany means many thinghs: art cities and medieval villages, crystal clear beaches and nature reserves, where you can forget everything. And then there are the wine tasti tours for a holiday of wine and good food (Golf Hotel Punta Ala) →
Castiglione della Pescaia: gourmet addresses
Castiglione della Pescaia: places to see in the area