Hotels to remember: Florence
Florence: introduction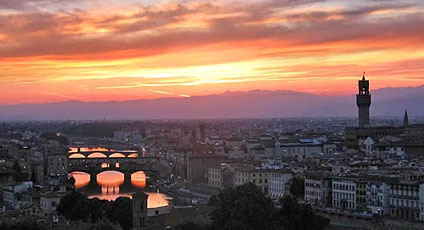 Florence, one of the most important centers of art and culture in Europe and the World, situated on the River Arno, birth place of Dante, the father of the Italian Language, the painters Donatello, Cimabue, and Botticelli, the philosopher Machiavelli and architect Brunelleschi as well as historical figures such as Lorenzo the Magnificent, Leone X and San Filippo Neri.
Florence possesses a vast wealth of art works by painters such as Leonardo da Vinci, Raffaello and Titian, which can be seen in the Uffizi Gallery, Palazzo Pitti, the Palatina Gallery and the Modern Art gallery. Sculptures by Donatello and Michelangelo are displayed in the Bargello Museum and the Academy gallery where Michelangleo's David can be found.
The most important monuments of Florence such as the Church of Santa Maria Novella, the Church of St Maria Maggiore, Palazzo Vecchio (Palazzo della Signoria), Ponte Vecchio, the Boboli Gardens are not to missed. Then there are the numerous libraries such as the Riccardiana and the National Library, considered to be the best in Italy. The Festival dei Popoli and Maggio Musicale Fiorentino are two of the most important cultural events held in Florence.
Florence: suggestions from the hotels
Lorenzo Falaschi
(Proprietario)
Resort
Le Colombaie Country Resort is located in the heart of the Tuscan countryside and, at the same time, within easy reach of some of the most beautiful towns and cities in the region; places like Florence, Siena, Volterra.... (Le Colombaie Country Resort) →
Lorenzo Bulleri
(Proprietario)
4 Star Hotels

Because Florence is a special city in the world, it's the cradle of Renaissance and also Unesco World Heritage. The city center is a very piece of art. (Marignolle Relais & Charme) →
Paolo Ducceschi
(Proprietario)
Historical Residences
Villa Parri is a historic charming residence, nestled in the tuscan countryside, close to the main artistic cities as Florence and Lucca. With us you can live many experiences at the same time during a five star holiday in Tuscany. (Villa Parri) →
Florence: gourmet addresses
More suggestions and useful addresses
Florence: places to see in the area