Hotels to remember: Orbetello and Argentario
Orbetello and Argentario: introduction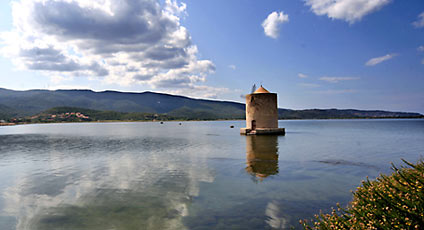 Once upon a time, Tuscany's Mount Argentario was an island. Now this rock is joined to the coast by way of three thin strips of land. Two of these, the Tombolo della Feniglia and the Tombolo della Giannella have formed naturally over the centuries, the other, the Orbetello lagoon dam (an artificial embankment serving as bridge) was constructed by man in 1840. Orbetello is a pleasant town of Tuscan Maremma, home to a number of noteworthy historic buildings. One of these is the Polveriera Guzman, edifice which now houses the town's Archaeological Museum. Then there is the renaissance style Palazzo del Podestà, the Gothic cathedral of Santa Maria Assunta, built on the ruins of an ancient Etruscan-Roman temple, and the Ciclopiche walls, erected in the 5th century B.C by the Etruscans.
The main attraction of Orbetello is the unique ecosystem created by those three tongues of sand which link the town with Mount Argentario. In the two coastal lagoons that have formed on either side of Orbetello, dozens of fish and bird species have found their natural habitat, including great colonies of pink flamingoes.
Close by, between the slopes of Mount Argentario and the Tyrrhenian coast, lie the famous bathing resorts of Porto Santo Stefano and Porto Ercole. The islands of Giglio and Giannutri are just a short boat ride away. Ideal place where to practice a whole variety of watersports, with its fabulous panoramic coastal pathways the Argentario is also perfect walking and mountain biking terrain, extremely popular with fitness fans and lovers of the great outdoors.
Orbetello and Argentario: suggestions from the hotels

The Maremma is rich in Etruscan history, hot springs, villages on tufaceous masses, unspoiled nature, lakes, wild animals, mountains, crystal clear sea, museums, genuine food and authentic Tuscan hospitality. (Agriturismo Biologico Sant'Egle ) →
Raffaella Monaco
(Web Manager)
5 Star Hotels
A mild climate, a vast array of activities - from wellness, to gourmet, to sports, to beaches - and a striking land that stretches between Mediterranean coast and Tuscany's rolling hills: the ideal location for an unforgettable vacation! (Argentario Resort Golf & Spa) →
Irene Zannini
(Addetta web marketing)
4 Star Hotels
The Tuscany means many thinghs: art cities and medieval villages, crystal clear beaches and nature reserves, where you can forget everything. And then there are the wine tasti tours for a holiday of wine and good food (Golf Hotel Punta Ala) →
Orbetello and Argentario: places to see in the area