Hotels to remember: Empoli
Empoli: introduction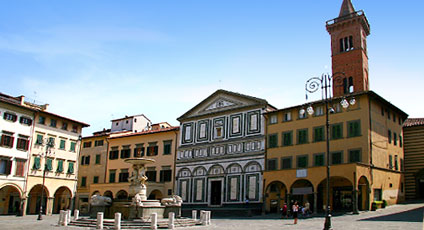 With traditions dating back to the 1500s, Empoli offers the tourist a taste of past culture and history mixed with a host of modern leisure pursuits. From a cultural point of view, Empoli has many monuments such as the River Port of the Roman era, Palazzo Ghibellino, the Civic museum of Paleontology, the Modern Art Gallery, the Collegiate Church of St Andrea, the Renato Fucini Public Library.
Artistic traditions survive in the centuries' old glass and ceramic craftwork. The Virtual Museum of Glass should not be missed. Empoli hosts a series of events such as the Empoli Fair and Fairground, the Collectors trade fair, the International Meeting of Entomologists, the Busoniane days, and the City Lights with late evening shopping, shows and concerts.
Entertainment is guaranteed for all ages with gardens and playgrounds, swimming pools, horse riding clubs and sporting grounds. A host of gastronomic itineraries and wildlife trails make Empoli the perfect place to combine different types of tourism.
Empoli: suggestions from the hotels
Paolo Ducceschi
(Proprietario)
Historical Residences
Villa Parri is a historic charming residence, nestled in the tuscan countryside, close to the main artistic cities as Florence and Lucca. With us you can live many experiences at the same time during a five star holiday in Tuscany. (Villa Parri) →
Guido Manfredi
(Proprietario)
Farmhouse Holidays

This is a part of Tuscany that's remained true to its traditions. Small charming towns, untouched hills and forests, trattorias offering classic Tuscan meals - with real Tuscans at the table next to you. (Fattoria Barbialla Nuova) →
Lorenzo Falaschi
(Proprietario)
Resort
Le Colombaie Country Resort is located in the heart of the Tuscan countryside and, at the same time, within easy reach of some of the most beautiful towns and cities in the region; places like Florence, Siena, Volterra.... (Le Colombaie Country Resort) →
Empoli: places to see in the area