Hotels to remember: Pienza
Pienza: introduction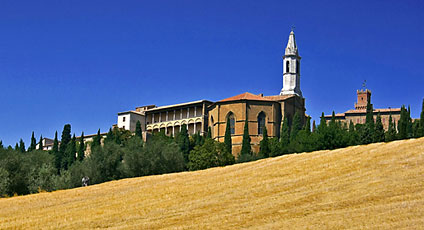 Situated on the Via Cassia, just a few kilometers from Cianciano Terme, one finds Pienza. Like Castiglione d'Orcia, Montalcino, Radicofoni and San Quirico d'Orcia the city is part of the Val d'Orcia.
Pienza is known for its historical ties with Enea Silvio Piccolomini, who became Pope Pio II in 1458 and transformed Pienza from a small Medieval village into an elegant Papal residence with architecture typical of the Renaissance period.
Even the shortest of visits to Pienza should include a walk along the town walls and an exploration of the historic center, with its perfectly preserved Renaissance buildings, such as Palazzo del Tesoriere, Palazzo Lolli, the Cathedral of the Assunta, Palazzo Piccolomini, Palazzo Borgia and Joffroy, Palazzo Comunale, Palazzo Ammanati, the Parish Church of Corsignano. Local delicacies include the Cacio pecorino cheese which can be tasted and bought in almost all of the shops in the town.
Pienza: suggestions from the hotels
Angelica Piccolomini Bandini
(proprietaria)
Historical Residences

Amazing views of the Tuscan hills; delicious local dishes combined with Brunello wine from Montalcino; plenty of art and history in all its villages. Welcome to this stunning region between the Orcia Valley and the Crete Senesi! (Borgo Lucignanello) →
Fabio Firli
(Owner)
B&B and Homes

Quality of living, tasting of small local produce, 2 of the most prestigious wine in the world, medieval hamlets, breath taking views. (Follonico 4-Suite) →
Antonella Cappelli
(Host)
4 Star Hotels

Colle di Val d'Elsa is a place to discover and enjoy each season of the year. We want our clients live a real "Tuscan Experience" in our Relais, the ancient residence of Cardinal Giuliano della Rovere. (Relais della Rovere) →
Pienza: places to see in the area