TOP 20 Locations
(last 30 days)
ItalyTraveller - 100% Pure Inspiration
Last 30 days
Travel ideas: Calabria and Basilicata
Calabria and Basilicata: suggestions from the insiders
Roberto Bisignano
(Responsabile)
Historical Residences

And now the 'enchanted forest', the 'magic plateau', the 'great wood' of antiquity awaits us - we are heading for the Sila! The visitor is immediately struck by the splendid alternation of wooded and cultivated land.... (Torre Camigliati) →
Calabria and Basilicata at a glance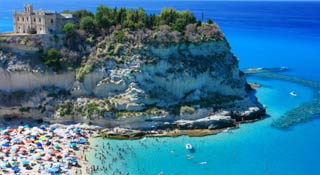 Calabria: a land of sea, mountains and centuries-old popular traditions, home to the Bronzes of Riace and the Pitagora, Aspromonte and Sila.
Until recently, Calabria was the chosen destination of just a few well-read and adventurous tourists travelling through Southern Italy in search of unspoilt countryside, mountains, and sea.
It was in the 1980's that, on the coast of Riace, fishermen found two bronze statues, presumably representing slaves and dating back to the Hellenic period. News of the discovery quickly spread and a stream of tourists began to visit the Museo Nazionale della Magna Grecia in Reggio Calabria to admire the marvellous "Bronzi di Riace" and, as a consequence, the historical importance of the region and the clear blue seas, luscious green countryside and wooded mountain slopes of Calabria finally acquired their more then deserved world wide fame.

And then there's Basilicata, the land of the Lucani: a wonderfully unspoiled and largely undiscovered region, home to fascinating cities constructed by the Ancient Romans and the Greeks, magical medieval towns and villages, the breathtakingly beautiful Pollino Park and paradisiacal beaches the likes of Maratea and Policoro.
But there's one place for which Basilicata is known better than any other and that's the Sassi di Matera: the ancient heart of the city of Matera, carved almost entirely out of calcareous rock and which, in 1993, was unanimously granted UNESCO world heritage status.
Calabria and Basilicata: gourmet addresses
More suggestions and useful addresses