Hotels to remember: Lucca
Lucca: introduction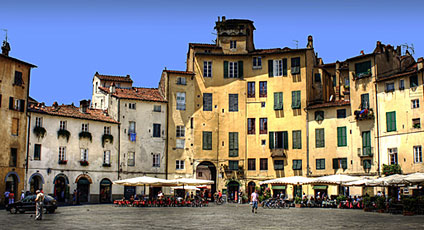 Approaching the city, the visitor to Lucca will be struck by the incredibly well preserved walls dating back to the 1500s which encircle the town, now transformed into a tree lined walk way. Once an Etruscan settlement, and subsequently a Roman Colony, Lucca preserves the ellipse of the Roman Amphitheatre and traces of Roman walls.
The Medieval appearance has hardly changed, with an urban architecture of narrow roads, towers and small squares overlooked by the numerous churches such as the Cathedral of St Martino, the Basilica of St Frediano, the Church of St Michele in Foro, the Farneta Charter House and the Palazzo Arcivescovile.

Lucca was the birth place of musicians such as Giacomo Puccini. The natural landscape is enchanting; dotted with splendid country mansions built between the 17th and 19th century. Lucca continues centuries' old commercial activities from the fabrication and marketing of silk to the production of local gastronomic specialties such as the traditional sweet buccellato of Lucca.
Lucca: suggestions from the hotels
Paolo Ducceschi
(Proprietario)
Historical Residences
Villa Parri is a historic charming residence, nestled in the tuscan countryside, close to the main artistic cities as Florence and Lucca. With us you can live many experiences at the same time during a five star holiday in Tuscany. (Villa Parri) →
riccardo barsottelli
(gestore)
Guest Houses
for the exhibition of the mexican artist Gustavo Aceves named "Lapidarium" where you can find beautiful marble and bronze sculptures in the charming city of Pietrasanta. (Locanda al Colle) →
Lorenzo Falaschi
(Proprietario)
Resort
Le Colombaie Country Resort is located in the heart of the Tuscan countryside and, at the same time, within easy reach of some of the most beautiful towns and cities in the region; places like Florence, Siena, Volterra.... (Le Colombaie Country Resort) →
More suggestions and useful addresses
Lucca: places to see in the area