Relais della Rovere
(4 Star Hotels) Colle di Val d'Elsa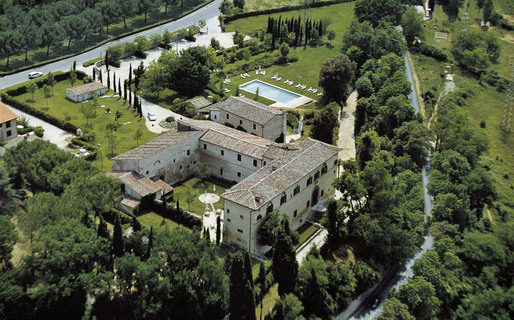 Built in the renaissance period as the private residence of Cardinal Giuliano della Rovere, the man later to become Pope Giulio II, Relais della Rovere, occupies a beautiful position in the Tuscan countryside overlooking Colle Bassa and Colle Alta.
First mention of the site can be found in documents dating back to the early XI century, when it was home to a Benedictine Abbey built on territory at that time governed by the Bishop of Volterra, feudatory of the Holy Roman Empire.
It was towards the end of the 1400's that Cardinal Giuliano Della Rovere, chose to build a residence for himself here; a building which was to remain in the possession of the church for some 400 years.
Between 1998 and 1999 the entire complex became the subject of a meticulous restoration project which allowed the edifice, the facade of which still bears the della Rovere coat of arms, to return to its original splendour; bringing to light architectural and decorative features which had remained hidden for years, if not centuries.
Expertly transformed in luxury hotel, the Relais della Rovere offers the finest Italian hospitality in this, one of Tuscany's most beautiful historic buildings.
A total of 30 attractive guestrooms are situated in the principal villa and the adjacent building, the latter originally serving as the convent. The luxurious suites are appointed with lavish textiles and authentic antiques. The superb bathrooms feature fabulous whirlpool bathtubs.
A special gift for the people you love? Choose your favourite voucher for an unforgettable present!

The Relais della Rovere's restaurant, the "Enoteca il Cardinale" offers guests the opportunity to taste excellent regional cuisine accompanied by the very best of Tuscany's celebrated wines.
An elegant function room provides the perfect venue where to hold an important business meeting or elite social event.
Close to many of Tuscany's most famous towns and cities, from Relais della Rovere one quickly finds oneself immersed in the history and art of Florence, Siena, San Gimignano and Volterra. Those unwilling to abandon the peace and quiet of the historic residence may pass away the hours relaxing by the pool situated in the gardens.
Relais della Rovere amenities
Outdoor facilities
Swimming pool
Garden
Park
Rooms
Rooms for the disabled
Internet connection
Free Wi-fi
Air Conditioning
Room service
Minibar
Kettle
Satellite TV
Hair dryer
Bathroom with hydromassage bath
Food and drink
Restaurant
Cocktail bar
Cooking courses
Events
Various
Reception 24h
Pets allowed
Car park
Laundry