Hotels to remember: Monteriggioni
Monteriggioni: introduction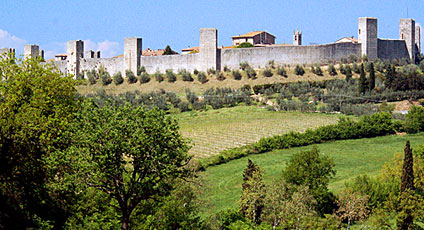 In the province of Sienna, half way between Colle Val d'Elsa and the city of Sienna, one finds Monteriggioni, a small medieval village known throughout Italy because the walls which encircle the settlement are still perfectly intact. Dante mentions the village in "the Divine Comedy".
There are 570 meters of wall, 14 towers and two gateways Porta Franca, which faces towards Sienna and Porta St Giovanni, facing towards Florence. Built on a hill top, Monteriggioni was originally a surveillance point looking out over the Elsa and Staggia Valleys.
To see: the 14th Century Parish Church and the Romanesque Abbey Abbadia a Isola of 1001. Cereals, grapes and colza are grown in the surrounding countryside where there are also numerous stud farms. Craft traditions of Monteriggioni include the production of ceramics, and articles made from wood, granite and marble.
Monteriggioni: suggestions from the hotels
Relais La Costa Dimora Storica
(General Manager)
Historical Residences

Historic Residence in Toscana, Near Siena, Monteriggioni & Chianti. In the heart of the Montagnola wood, full of silence, peace and exclusivity, with amazing views over the Sienese hills, private Spa, restaurant and pool (Relais La Costa) →
Guido Manfredi
(Proprietario)
Farmhouse Holidays

This is a part of Tuscany that's remained true to its traditions. Small charming towns, untouched hills and forests, trattorias offering classic Tuscan meals - with real Tuscans at the table next to you. (Fattoria Barbialla Nuova) →
Daniela Berlingozzi
(concierge)
Farmhouse Holidays

Charme & Relax between Siena and San Gimignano. The three adult friendly holiday rental apartments were designed to exalt the traditional beauty of Tuscany through the eyes of a modern & elegant decor."A place of contemplation and silence" (La Pieve Casale di Charme) →
Monteriggioni: gourmet addresses
More suggestions and useful addresses
Monteriggioni: places to see in the area