Hotels to remember: Chiusi
Chiusi: introduction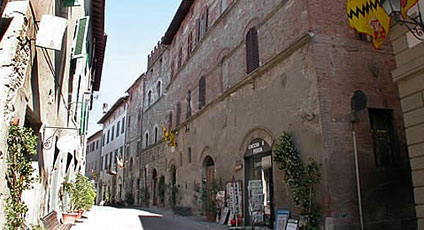 Those who love history will find in Chiusi a city of great interest with its many traces of the Etruscan period as well as those of Medieval times. Apart from the structure of the city itself, the signs of the past are most evident in the Cathedral, the Palazzo Episcopale, the Cathedral of St Secondiano, the Bell Tower, the Catacombs, and the National Etruscan Museum.
The Civic Museum (Cathedral Museum) houses the marvelous 21 "codici miniati benedettini", works dating back to the 15th century. Chiusi is not only for history lovers, but also for enthusiasts of popular traditions, especially those which evoke the Etruscan period.
The gastronomic traditions are of great importance, since Chiusi was originally a mosaic of farming villages. The cuisine of Chiusi is amongst the finest in the whole of Tuscany featuring Pici, Brustico, Fragrant Wine, Olive oil, Spelt, Venison and Wild boar.
Chiusi: suggestions from the hotels
Fabio Firli
(Owner)
B&B and Homes

Quality of living, tasting of small local produce, 2 of the most prestigious wine in the world, medieval hamlets, breath taking views. (Follonico 4-Suite) →
Stefania Salvini
(Proprietaria)
Countryside Residences
Montepulciano is the pearl of the '500, walking through its streets you can see splendor lived during the Renaissance. The most evocative monument is the church of San Biagio and Montorio is located in front with a unique view. (Montorio) →
Lina Bartelli
(Marketing Manager)
4 Star Hotels

If you want to taste the best of history, art and eno gastronomic excellences, Cortona is your goal!... inthe heart of Tuscany but also close to Umbria it's the perfect place to visit the best of both regions. (Relais il Falconiere) →
More suggestions and useful addresses
Chiusi: places to see in the area