Chianti, a family affair
The Mazzei and the Fonterutoli estate.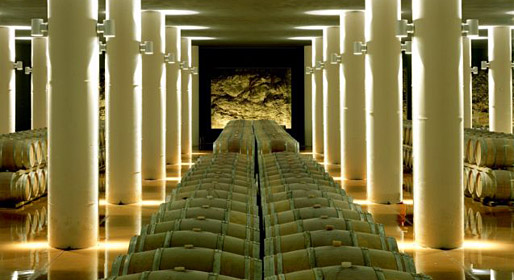 Just five kilometres from Castellina in Chianti, there is a tiny, centuries-old hamlet, almost untouched by the passage of time, and a rocky terrain where grapes of exceptional quality are grown. Since 1435, the Fonterutoli Estate is home to the Mazzei, a family who, for 24 generations, has been producing the very finest Chianti Classico wines.
The current generation's innovative approach to wine production combines age-old traditions with the very latest in modern, eco-friendly technology.
In 2007 the estate's new cellar was inaugurated, work of the family architect, Agnese Mazzei. Inspired by traditional Tuscan wine producing facilities from the second half of the 19th century, Mazzei designed the cellar so as to have minimum environmental impact, harmonising the layout of the building with the surrounding hills and incorporating technology for the transformation of waste materials and chaff from the estate's agricultural activities in fuel.
The three floor edifice, 75% of which lies underground, houses a million bottles and 74 vats for vinification. The barrel cellar, with exposed rock walls, contains some 3.500 barriques.
Part of an emerging trend, which sees wine producers enlisting the services of eminent architects to transform their wineries, the cellar is destined to become a veritable tourist attraction.
For visitors with a passion for wine the Maffei have, in fact, created two specialist guided tours. Historical Fonterutoli (twice a day from Monday to Friday) includes a tour of the hamlet and the historic cellars and concludes with a tasting, held by expert sommeliers, in the Enoteca di Fonterutoli. Fonterutoli VIP (Thursday morning) has been created for those wishing to experience the winery to the full and includes a visit to the new cellar, situated just outside the hamlet.
Visit reservation
Enoteca di Fenterutoli
Ph. +39 0577 741385
Castello di Fonterutoli
via Ottone III 5
Loc. Fonterutoli
Castellina in Chianti (Siena)
www.mazzei.it