Wines of Ornellaia
Wines from the vineyards on the Etruscan Coast.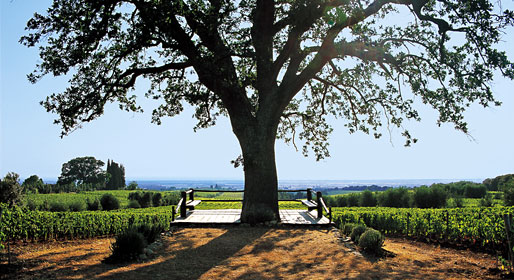 Where the rolling Tuscan Hills meet the Tyrrhenian Sea, close to the cypress-lined road to Bolgheri, is the Etruscan Coast Wine Route. This land was once blighted by Malaria but has since been drained and Mediterranean flora, olive-groves and vineyards now thrive in the rich soil. It is here that you will find the Tenuta dell Ornellaia Winery, a winery which has completely disproved the age-old belief that the Chianti was the only place in Tuscany in which world-class wines could be produced.
In 1981, Marquis Ludovico Antinori, a descendent of a family of great winemakers, decided to experiment with a new way of making wine, one which would respect the unique terroir, and include both hand harvesting and the separate vinification of the grapes produced in each individual vineyard. The first sorting process after harvesting, is still traditionally left to the expert hands of Ornellaia's female workers, who meticulously discard damaged and unripe fruits and ensure that even the tiniest quantities of foliage do not enter the vats.
This part of Tuscany, where the Maremma begins, is characterised by its alluvial, marine and volcanic terrains, which make it especially suitable for the cultivation of red grapes such as Merlot, Cabernet, Sauvignon, Cabernet Franc and Petit Verdot.
The estate's flagship wine is its Ornellaia, closely followed by Le Serre Nuove and Le Volte, the 1998 vintages of which were declared Best Wine in the World by Wine Spectator. In addition, there is the Masseto, produced exclusively with the Merlot grapes cultivated in the small 7 hectare vineyard from which the wine takes its name. Today, two and a half decades after its first 1986 vintage, the Masseto is one of the world's most sought after wines.
Those visiting the estate find a beautifully restored 19th century country residence which provides a striking contrast to the ultra modern cellar. Guests experience the unique character of the wine company and its produce to the full, by tasting the wines in the place in which they have been created and conserved. Visits are by reservation only (see form on the website) and include the option of lunch on the estate.
Tenuta dell'Ornellaia
Via Bolgherese, 191 - Bolgheri
57022 Castagneto Carducci (Livorno)
Tel: +39 0565 718 242
Fax: +39 0565 718 240
www.ornellaia.com