Hotels to remember: Ragusa
Ragusa: introduction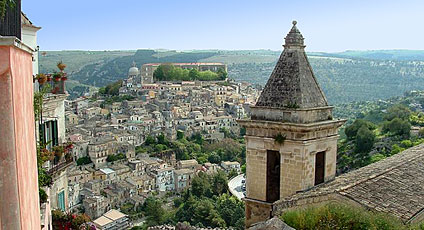 The name "Ragusa" is derived from the Greek-Byzantine term "Rogos", meaning "granary". The city is sited approximately 500 meters above sea level, in a hilly landscape, close to all of the principal Sicilian cities.
Ragusa is divided in two, Ragusa Superiore and Ragusa Inferiore, known also as "Ibla", (originally Hibla Heraia). It is in Ragusa Inferiore that the most important monuments can be found, buildings such as the Church of St Maria delle Scale, the Cathedral of St Giovanni Battista, the Church of Purgatory with its Baroque portal, and Palazzo Donnafugata in which there are splendid paintings assigned to Antonello da Messina.
The principal economic activities of Ragusa are linked to agriculture, craftsmanship, tourism. The vibrant Via Roma is the heart of the city life.
Ragusa: suggestions from the hotels
Daniele La Rosa
(Proprietario)
Small Boutique Hotels
"You have to be smart to come to Ibla, a certain quality of mind, a taste for the silent and ardent tuffs, the dead ends, the unnecessary turns, the shutters sealed against a black eye that spies. » (Iblaresort) →
Silvia e Giuseppe Pulvirenti
(Owners)
Historical Residences

Tenuta Cammarana is an historic Country House set in a private rural estate in Eastern Sicily. With its authentic interiors and old-style hospitality, Tenuta Cammarana offers complete respite from the world. (Tenuta Cammarana) →
Carlo Pintaldi
(Direttore)
4 Star Hotels

Antica Masseria La Corte del Sole is located in the heart of the Val di Noto, a strategic position to visit the beautiful baroque cities of Noto, Modica, Ragusa, Scicli, Caltagirone, Catania and Siracusa. (Hotel La Corte del Sole) →
Ragusa: gourmet addresses
Ragusa: places to see in the area