Hotels to remember: Selinunte
Selinunte: introduction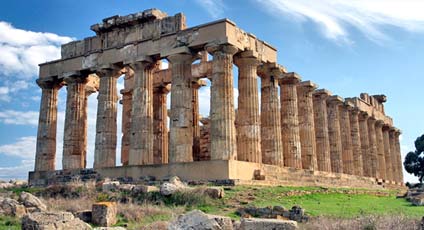 Three things to do in Selinunte
1. Walk amidst the ruins of the Ancient Greek temples
2. Take a dip in the bay of Zabbara, in the shadow of the Acropolis
3. Experience the fish auction in Marinella di Selinunte
Selinunte, the city of Gods, is one of the largest and most fascinating archeological sites in the whole of Europe.
The plan of the Ancient Greek settlement, with its five temples dedicated to the Gods, is still incredibly well conserved . So much so that, as you walk amidst the ruins, it's easy to imagine how it might have appeared when the Phoenicians first built the city in the middle of the 7th century B.C.
From Selinunte the soft sandy beaches of Northwest Sicily and the crystal clear sea are just moments away. The best beaches? Pineta beach, nestled amidst the Mediterranean pine trees on Punta Cantone, and Zabbara all'Acropoli, this latter situated almost directly below the Ancient Greek temples.

Water and windsports fan? You'll love the beach of Triscina where the wind is all but guaranteed, making it ideal for both kite and windsurfing!
You're by the sea and the fish couldn't be fresher. Each morning, at about 7am, when Selinunte's fishermen return from a night at sea, the fish auction in Piazza Scalo di Bruca in Marinella di Selinunte begins: an authentic Sicilian experience well worth waking up early for!
Selinunte: suggestions from the hotels
Emerico Amari
(Proprietario)
Small Boutique Hotels

Selinunte: a unique landscape suspended between the intense blue of the Mediterranean sea and sky. A land dotted with number of treasures, some of which are so well hidden that only the most fortunate of visitors will be able to find them (Baglio Villa Sicilia) →
federico montalto
(proprietario)
B&B and Homes

Ideal stopover to visit all the sites of archaeological and landscape of the province of Trapani. Visit of the cellars where wine is produced Marsala. Charter or scheduled ferries to the Egadi Islands. The kitchen area ......... (Baglio Spanò) →
Selinunte: places to see in the area