Hotels to remember: Acireale
Acireale: introduction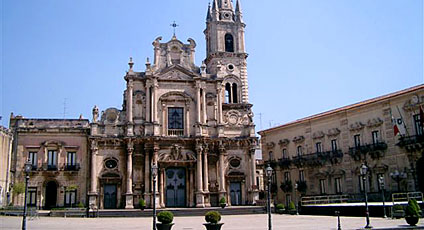 Surrounded by citrus groves, at the feet of Mount Etna, Acireale greets its visitors dressed in all its baroque splendour. The history of the town is a centuries old one and its name derives from the Greek Aci and Galatea. In both Greek and Roman times, Acireale was an important spa town, as testified by the remains of the baths of Santa Venera al Pozzo.
Devastated by earthquake in 1693, Acireale was "reborn" during the Baroque period, when the entire town was rebuilt. Palazzi and churches were all constructed in the same style, a style still visible to this very day and which has made Acireale one of the most fascinating towns in the whole of Sicily.
With its majestic baroque façade and ornate frescoes, the 17th century Church of San Sebastiano constitutes a symbol of the town's rebirth. The church is also a symbol of the deep religious sentiment of the town's inhabitants, sentiment which, over the centuries, has resulted in the realisation of dozens of chapels here. It is for this proliferation of houses of worship that Acireale has come to be known as "the town of a hundred churches".
Acireale is home to one of the most important carnivals held in Sicily which today, as in times past, attracts hundreds of visitors eager to witness the procession of spectacular floats all with elaborate allegorical themes. What is more, thanks to its vicinity to Mount Etna and the Ionian sea, the area has a unique ecosystem, protected by the Timpa Nature Reserve.
Acireale: suggestions from the hotels
Daniele Murabito
(Direttore)
4 Star Hotels

IMMERSED IN THE WONDERS OF NATURE set between the sea, etna and taormina, the castle is an ideal starting point to reach some of the most spectacular island destinations. The castle is situated by the sea (Castello di San Marco) →
Guido Coffa
(Proprietario)
Farmhouse Holidays
Monaci delle Terre Nere is a quiet hideaway from the chaos of the modern world, a 18th century former monastery hidden in the foot hills of Mount Etna. The volcano's slopes are the magic and charming surroundings of the estate. (Monaci delle Terre Nere) →
More suggestions and useful addresses
Acireale: places to see in the area