Hotels to remember: Gela
Gela: introduction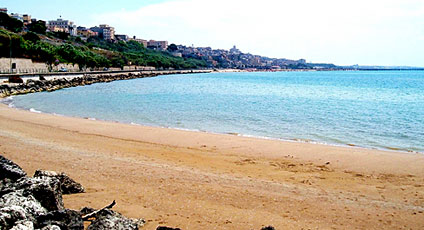 A long stretch of coast and a rich and fertile soil. These are the principal characteristics of Gela, town of Doric origin situated on the southern coast of Sicily, transformed over the centuries in to a large industrial town. In the area of Molino a Vento, the Acropolis and the contiguous Archaeological Museum testify to the importance of Gela in the Hellenistic period.
Excavation work, in the Capro Sopriano area, has brought to light the exceptionally well conserved remains of ancient Greek fortifications, including an easily identifiable 300meter long stretch of wall, dating back to some time between the 4th and 3rd century B.C., period in which the town was completely rebuilt after having been razed to the ground by the Carthaginians.
Not far away, the remains of an old thermal baths can be seen. Now, each summer and in celebration of the glories of Hellenic Gela, a series of Greek tragedies are performed. In the historic center of Gela there are a number of churches, the most important of which being the Neoclassical Mother Church.
Gela: suggestions from the hotels
Claudia Origoni
(Proprietario)
Historical Residences
Experience the ancient and authentic Sicily, at the heart of Val di Noto. UNESCO world heritage site with 5 other sites in a 30km radius. Famous for its chocolate - the oldest in the world, and only 15 minutes for the sea (blue flag). (Le Case dello Zodiaco) →
Luca Giannini
(Titolare)
Guest Houses

- Chocolate tasting in the ateliers of Modica - The unforgettable Classic Plays at the Greek Theatre of Siracusa between May and June - Discover the places of the famous TV series of Commissario Montalbano between Modica, Ragusa & Scicli (Anime a Sud) →
Julia G.
(Manager)
Countryside Residences
The region all around Noto is a land steeped in history, culture, scenic beauty and bubbling vitality. which offers itineraries and discoveries. (Masseria della Volpe) →
Gela: places to see in the area