Hotels to remember: Agrigento
Agrigento: introduction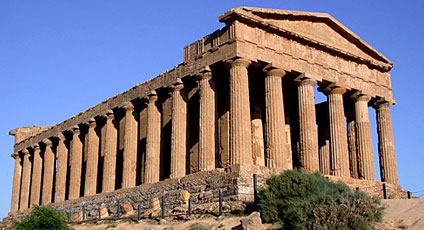 The city was given many names by the various civilizations which have inhabited what is now known as Agrigento. It has been called Akagras (by the Greeks), Agrigentum (by the Romans), Kerkent (by the Arabs), and Girgenti (by the Normans). Situated on a hilly coastline, Agrigento is only a short distance away from the principal Sicilian cities.
The city was described by the Greek poet, Pindaro as "the most beautiful city inhabited by mortals". It is the birth place of the Noble Prize winner, Luigi Pirandello. The economy of Agrigento is reliant upon horticulture and agriculture. The extensive cultivation of almonds led to the city being known as "The Almond in Flower". There are many olive groves and citrus orchards. Cereals are also grown.
Among the many monuments of note are: Agrigento Cathedral, the Church of St Nicola, the Archeological Museum, the Monastery of St Spirito, the Church of Purgatorio, the Church of St Maria dei Greci, the Art Museum, the house where Luigi Pirandello was born, known as "il Caos". Not to be missed the Valle dei Templi, just South of Agrigento, a group of Temples erected in the V century BC to celebrate the town's prosperity.
Agrigento: suggestions from the hotels
Silvia e Giuseppe Pulvirenti
(Owners)
Historical Residences

Tenuta Cammarana is an historic Country House set in a private rural estate in Eastern Sicily. With its authentic interiors and old-style hospitality, Tenuta Cammarana offers complete respite from the world. (Tenuta Cammarana) →
Daniele La Rosa
(Proprietario)
Small Boutique Hotels
"You have to be smart to come to Ibla, a certain quality of mind, a taste for the silent and ardent tuffs, the dead ends, the unnecessary turns, the shutters sealed against a black eye that spies. » (Iblaresort) →
Emerico Amari
(Proprietario)
Small Boutique Hotels

Selinunte: a unique landscape suspended between the intense blue of the Mediterranean sea and sky. A land dotted with number of treasures, some of which are so well hidden that only the most fortunate of visitors will be able to find them (Baglio Villa Sicilia) →
Agrigento: gourmet addresses
More suggestions and useful addresses
Agrigento: places to see in the area