Hotels to remember: Giardini Naxos
Giardini Naxos: introduction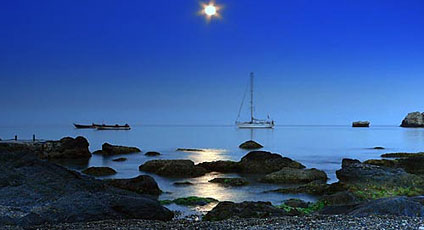 Between Messina and Catania, the town of Giardini Naxos is a fascinating mix of the ancient past, with its characteristic fishing village, and the new, with modern hotels; making it a perfect tourist destination.
Travelers arrive all year round, in the winter to enjoy the snow covered slopes of Mount Etna, and in the summer for the beautiful beaches and full range of water sports. For golfers there is the 16 hole Picciolo course. The Craft industries of Giardini Naxos are still alive with the production of carpets, terracotta, ceramics, and the famous ironmongery. Popular traditions are enthusiastically continued in every day life.
The famous Sicilian cart is symbolic of the town. Among the local customs are: fishing for costardelle; grape pressing, "A Matrissa"; musical performances by the Naxos Folk Group and the famous Sicilian puppet shows, "l'opera dei pupi". Not to be missed: the Archeological Museum of Giardini Naxos, which houses a wealth of remains which were found in the old town.
Giardini Naxos: suggestions from the hotels
Guido Coffa
(Proprietario)
Farmhouse Holidays
Monaci delle Terre Nere is a quiet hideaway from the chaos of the modern world, a 18th century former monastery hidden in the foot hills of Mount Etna. The volcano's slopes are the magic and charming surroundings of the estate. (Monaci delle Terre Nere) →
Daniele Murabito
(Direttore)
4 Star Hotels

IMMERSED IN THE WONDERS OF NATURE set between the sea, etna and taormina, the castle is an ideal starting point to reach some of the most spectacular island destinations. The castle is situated by the sea (Castello di San Marco) →
Giardini Naxos: places to see in the area