Hotels to remember: Marsala
Marsala: introduction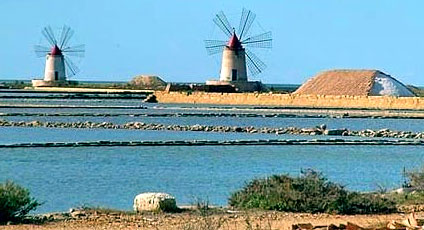 Situated on Capo Boeo, the tip of Sicily, opposite the Egadi islands and Tunisia, Marsala is known for its history, for its coastline, and for its wine. It is historically important because it was chosen as the landing point for Giuseppe Garibaldi and his thousand men. Marsala has been awarded the Blue Flag for the clean water of its 14 kilometer coastline and boating harbor.
Marsala is largely dependent on agriculture and viniculture, in particular on the production of the sweet fortified Marsala wine, the oldest of the Italian DOC wines. To visit: the Giuseppe Garibaldi Museum, the Stagnone Nature Reserve, the Withaker Museum, the Archeological Park (from Porta Nuova to the Boeo seafront), the Grotta della Sibilia Lilybetana and the Mosaics of the Roman Insula.
Numerous events will entertain the visitor, including the Festival of the Patron Saint, the Madonna della Cava, the Festival of St Giuseppe, the Festival of St Giovanni, the Garibaldi events, the Marsala DOC Jazz Festival, the International Wine Show Vinoro and a full calendar of summer entertainment under the called "Estate Insieme".
Marsala: suggestions from the hotels
Emerico Amari
(Proprietario)
Small Boutique Hotels

Selinunte: a unique landscape suspended between the intense blue of the Mediterranean sea and sky. A land dotted with number of treasures, some of which are so well hidden that only the most fortunate of visitors will be able to find them (Baglio Villa Sicilia) →
federico montalto
(proprietario)
B&B and Homes

Ideal stopover to visit all the sites of archaeological and landscape of the province of Trapani. Visit of the cellars where wine is produced Marsala. Charter or scheduled ferries to the Egadi Islands. The kitchen area ......... (Baglio Spanò) →
Marsala: places to see in the area