Hotels to remember: Sciacca



Sciacca: introduction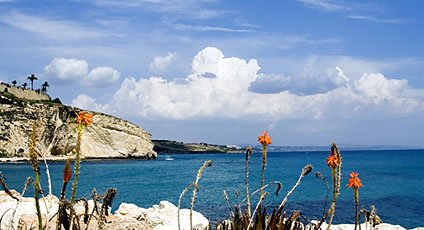 A crystal clear sea, thermal baths, a port brimming with fishing boats, narrow roads and churches dating back to the Norman era. This is Sciacca, town in the province of Agrigento, Sicily, inhabited since ancient times.
It is still the subject of debate as to whether the Sicani or the Phoenicians, were responsible for the foundation of this town lying at the feet of Mount Kronio, but what is certain is that both the Arabs and Normans inhabited Sciacca, and left a number of indelible traces of their time here.
The narrow streets, reminiscent of a North African Kasbah, lead visitors to the sturdy churches built by the Normans and to the walls of Luna Castle, stronghold which dominates Sciacca from its position high up above the town.
Before leaving Sciacca, visitors should be sure to take a dip in the sea and make their way up to the natural vapour caves of San Calogero on Mount Kronio, where to experience the world renowned benefits of Antrotherapy. Since the 16th century, Sciacca has hosted an important carnival. Today, hundreds of tourists come each year to witness the colorful procession of floats laden with huge allegorical figures as it travels through the streets of the town.
Sciacca: suggestions from the hotels
federico montalto
(proprietario)
B&B and Homes

Ideal stopover to visit all the sites of archaeological and landscape of the province of Trapani. Visit of the cellars where wine is produced Marsala. Charter or scheduled ferries to the Egadi Islands. The kitchen area ......... (Baglio Spanò) →
Emerico Amari
(Proprietario)
Small Boutique Hotels

Selinunte: a unique landscape suspended between the intense blue of the Mediterranean sea and sky. A land dotted with number of treasures, some of which are so well hidden that only the most fortunate of visitors will be able to find them (Baglio Villa Sicilia) →
Sciacca: places to see in the area