Hotels to remember: Taormina
Taormina: introduction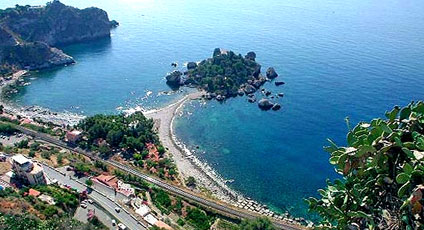 Just 40 kilometers away from Messina, perched 200 meters above the sea, one finds Taormina. Here there are vistas looking out over the Ionio sea and the Volcano, Etna. A short stretch of sea divides Taormina from the beautiful beaches of Mazzarò, Giardini Naxos and Isola Bella. The town is known world wide for its tourist facilities and its natural beauty.
The Piazza del Duomo with the Cathedral of St Nicolò, the Church of St Agostino, the Church of St Giuseppe, Porta di Mezzo, Palazzo Ciampoli, Palazzo dei Duchi di St Stefano, the Convent of St Domenico, the Naumachia and the theatre, dating back to the time of the Empire, are all worth visiting.
Among the many events which take place are the Taormina Arte and the Taormina Film Festival, which have become Internationally important. With its long tradition of hospitality, it is hardly surprising that Taormina has a fabulous cuisine with superb fish dishes and a host of delicacies using the local lemons.
Taormina: suggestions from the hotels
Guido Coffa
(Proprietario)
Farmhouse Holidays
Monaci delle Terre Nere is a quiet hideaway from the chaos of the modern world, a 18th century former monastery hidden in the foot hills of Mount Etna. The volcano's slopes are the magic and charming surroundings of the estate. (Monaci delle Terre Nere) →
Daniele Murabito
(Direttore)
4 Star Hotels

IMMERSED IN THE WONDERS OF NATURE set between the sea, etna and taormina, the castle is an ideal starting point to reach some of the most spectacular island destinations. The castle is situated by the sea (Castello di San Marco) →
Taormina: gourmet addresses
Taormina: places to see in the area