Hotels to remember: Siracusa
Siracusa: introduction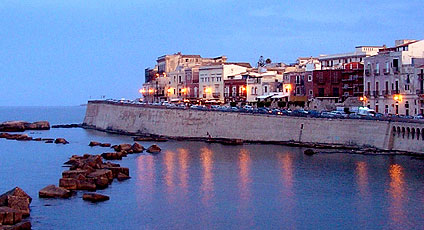 Founded by the Corinthians, the name Siracusa derives from the nearby marshland, "Sykara". Over the centuries, Siracusa has been conquered by the Romans, the Byzantines, the Goti, the Arabs, the Normany, the Genovesi, the Svevi and the Aragons.
This vibrant history has left it with a wealth of monuments, the most important of which can be found in the Archeological park of the Neapolis. Here one finds the Greek Theatre, the Roman Amphitheatre, the Latomia del Paradiso, the Grotta dei Cordari, the Ara di Lerone, Porta Urbica, Apollo's Temple, the Cathedral and Athena's Temple, Zeus's Temple, the Gymnasium, the Catacombs, the Paolo Orsi Museum and Eurialo Castle.
Whilst at Siracusa visitors should not miss the opportunity to see the Regional Gallery of Palazzo Bellomo, the Museum of the Papiro and the Cinema Museum. The principal economic activities of Siracusa, despite the increase in modern industrial activity, are still those based on agriculture, cattle farming and fishing. Among the gastronomic delights the tuna fish, purpetti di tonno da Zà Cicca really must be tasted.
Siracusa: suggestions from the hotels
Carlomaria
(Direttore)
4 Star Hotels

Come and touch the true Sicily. Just do a jump in the past and in the beauty of this almost unknown province so unique ... history, archaeology, UNESCO protected sites, starred restaurants and easy restaurants to taste ... (Hotel La Moresca) →
gianluca
(proprietario, your host, traveller)
4 Star Hotels

Syracuse is a historic city in Sicily, the capital of the province of Syracuse. The city is notable for its rich Greek history, culture, amphitheatres, architecture, and as the birthplace of the preeminent mathematician and engineer Archimedes. This 2,700-year-old city played a key role in ancient times, when it was one of the major powers of the Mediterranean world. Syracuse is located in the southeast corner of the island of Sicily, right by the Gulf of Syracuse next to the Ionian Sea. The city was founded by Ancient Greek Corinthians and became a very powerful city-state. Syracuse was allied with Sparta and Corinth, exerting influence over the entire Magna Grecia area of which it was the most important city. Once described by Cicero as "the greatest Greek city and the most beautiful of them all", it later became part of the Roman Republic and Byzantine Empire. In the modern day, the city is listed by UNESCO as a World Heritage Site along with the Necropolis of Pantalica. (Palazzo Cavalieri) →
Julia G.
(Manager)
Countryside Residences
The region all around Noto is a land steeped in history, culture, scenic beauty and bubbling vitality. which offers itineraries and discoveries. (Masseria della Volpe) →
Siracusa: gourmet addresses
Siracusa: places to see in the area