Hotels to remember: Valle dell'Etna
Valle dell'Etna: introduction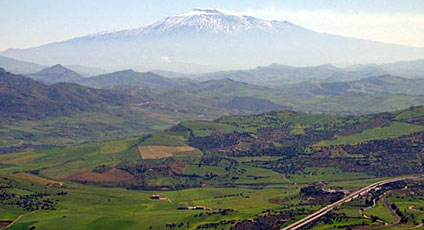 The Valle dell'Etna is an area of natural beauty quite unique in Italy. The Valle snakes round to the Parco dell'Etna and provides numerous trekking routes along which to explore the Volcano and its craters. For an update on the available routes it is advisable to contact the Parco dell'Etna authorities. An excursion across Etna can be done in several stages.
The first stage of the itinerary on the park is Fornazzo, Rifugio Vitelli, Piano Provenazana. The second: Piano Provenazana, Pista altomontana, Monte Maletto, Monte Scavo. The third stage: Monte Scavo, Piano Vetore, Area turistica Etna Sud. The fourth stage: Area turistica Etna Sud, area Sommatale, Valle del Bove; during this excursion, having arrived at the Torre del Filosofo, one reaches the craters edge.
Last stage: Valle del Bove, Val Calanna, Zafferana Etnea, this is the most beautiful and the most dangerous section and should not be attempted before having obtained all the latest information regarding crater activity. Those traveling through Sicily really should not miss the opportunity to visit the Valle dell'Etna.
Valle dell'Etna: suggestions from the hotels
Daniele Murabito
(Direttore)
4 Star Hotels

IMMERSED IN THE WONDERS OF NATURE set between the sea, etna and taormina, the castle is an ideal starting point to reach some of the most spectacular island destinations. The castle is situated by the sea (Castello di San Marco) →
Guido Coffa
(Proprietario)
Farmhouse Holidays
Monaci delle Terre Nere is a quiet hideaway from the chaos of the modern world, a 18th century former monastery hidden in the foot hills of Mount Etna. The volcano's slopes are the magic and charming surroundings of the estate. (Monaci delle Terre Nere) →
More suggestions and useful addresses
Valle dell'Etna: places to see in the area