Hotels to remember: Cefalù
Cefalù: introduction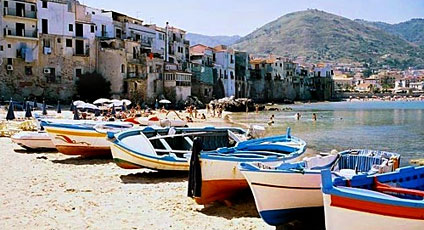 Situated on the Gulf of Termini Imerese, roughly 50 kilometers from Palermo, Cefalù seems to be overshadowed by a mountain which looks not unlike a head. In fact, the name Cefalù is derived from the Greek "Kephaloidion". Cefalù is an excellent tourist destination, just moments away from the most popular mountain resorts and yet to all intents and purposes it remains a port, with a characteristic harbor, crammed with small fishing boats.
Of ancient origins, Cefalù offers history, culture and art; as can be seen in the town's architectural monuments: Cefalù Cathedral, the Church of Maria Santissima della Catena, the ex Convent of St Caterina, the Mandralisca Museum and the Medieval Washhouse.
Among the events in the town: the Frottola (farm workers day), the Ninna a Mari and the Gioco delle Pignatte. A few kilometers away from the town one finds the Gibilmanna Sanctuary and the charming village of Gratteri. Delicacies to be tasted: sweet almond biscuits, salmon in honey and green peppercorns, and artichoke heart salad.
Cefalù: suggestions from the hotels
Giacomo Vena
(Sales Manager)
4 Star Hotels
Palermo is a town of a thousand colors, flavors and fragrances, you will learn to love and to discover the many faces that offers its visitors. (Palco Rooms&Suites) →
Tommaso Rizzuto
(Amministratore - Proprietario)
Farmhouse Holidays

Thanks to its location right in the heart of Sicily, Masseria Susafa is an excellent base for a culture-rich holiday spent visiting Cefalù, the towns of the Madonie (Polizzi Generosa, Petralie) and Sicily's splendid capital, Palermo... (Masseria Susafa) →
Cefalù: places to see in the area