Hotels to remember: Noto
Noto: introduction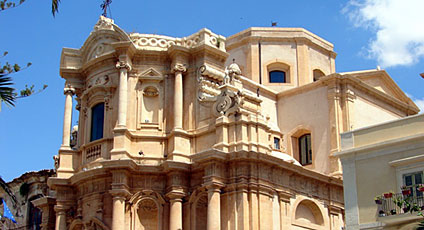 A Baroque masterpiece in the province of Siracusa: Noto. Such is the town's beauty that it has been awarded status as Cultural Patrimony of Humanity by UNESCO. The ancient city of Neas, was known as Neatum by the Greeks, became Netum under Roman rule, and acquired its present name "Noto", under the Arab dominion.
A powerful earthquake completely destroyed the town in 1693, leading to Noto being rebuilt in sumptuous Baroque style. The reconstruction work was supervised by the Duke of Camastra, representative of the Spanish viceroy in Sicily.
Grandiose flights of steps lead worshippers and tourists alike up to the ornately carved entrance doors of the churches, the roads open out in to sweeping piazzas lined by palaces built in a stone of soft pink and golden yellow hues.
A tour of Noto might start from the main square where to visit Palazzo Ducezio, Palazzo Vescovile, Palazzo Lanolina, the Church of San Domenico and, of course, the town's magnificent Cathedral to name but a few of the many buildings worth visiting in Noto.
Noto: suggestions from the hotels
Luca Giannini
(Titolare)
Guest Houses

- Chocolate tasting in the ateliers of Modica - The unforgettable Classic Plays at the Greek Theatre of Siracusa between May and June - Discover the places of the famous TV series of Commissario Montalbano between Modica, Ragusa & Scicli (Anime a Sud) →
Silvia e Giuseppe Pulvirenti
(Owners)
Historical Residences

Tenuta Cammarana is an historic Country House set in a private rural estate in Eastern Sicily. With its authentic interiors and old-style hospitality, Tenuta Cammarana offers complete respite from the world. (Tenuta Cammarana) →
Daniele La Rosa
(Proprietario)
Small Boutique Hotels
"You have to be smart to come to Ibla, a certain quality of mind, a taste for the silent and ardent tuffs, the dead ends, the unnecessary turns, the shutters sealed against a black eye that spies. » (Iblaresort) →
Noto: places to see in the area