Hotels to remember: Monreale
Monreale: introduction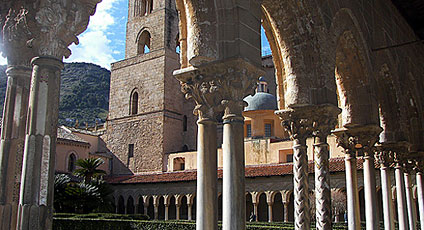 Not far from Palermo, Monreale occupies a commanding position looking out over the vast expanses of citrus groves of the Conca d'Oro. Of course, Monreale is known, above all, for its Cathedral. This magnificent work of architecture, dating back to the Norman period, is famous throughout the world. And it was around the Benedictine monastery which adjoins the cathedral that the town of Monreale was built.
Displaying a unique mixture of Norman, Byzantine and Arabian styles, the cathedral, construction of which began in 1172, by will of Guglielmo II of Altavilla, boasts an ornate façade featuring a trefoil portico, two fortified lateral towers, and two magnificent bronze doors.
The interiors of this Sicilian house of worship are just as splendid, containing an immense wealth of shimmering gold mosaics. Not to be missed: the ancient Byzantine convent annexed to the cathedral, the cloisters of which feature some 228 exquisitely decorated columns.
Monreale: suggestions from the hotels
Tommaso Rizzuto
(Amministratore - Proprietario)
Farmhouse Holidays

Thanks to its location right in the heart of Sicily, Masseria Susafa is an excellent base for a culture-rich holiday spent visiting Cefalù, the towns of the Madonie (Polizzi Generosa, Petralie) and Sicily's splendid capital, Palermo... (Masseria Susafa) →
Giacomo Vena
(Sales Manager)
4 Star Hotels
Palermo is a town of a thousand colors, flavors and fragrances, you will learn to love and to discover the many faces that offers its visitors. (Palco Rooms&Suites) →
Monreale: places to see in the area