Hotels to remember: Milazzo
Milazzo: introduction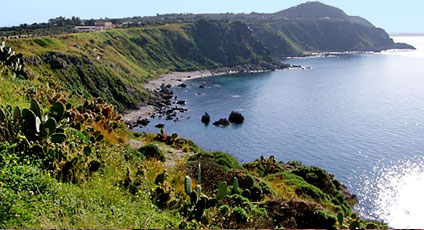 A thin peninsula, edged by tiny beaches, stretches out from the Southern Sicilian coastline, for over seven kilometers, into the Tyrrhenian sea. Milazzo is situated on the Eastern side of this peninsula, right at the start of the promontory. It is known as the city of the Battle of Milazzo of July 26th 1860, a battle which took place between the forces of Garibaldi and those of the Bourbons.
The city is divided into the walled city, the "borgo" and the low city. To visit: the Castle, Milazzo Cathedral, the remains of the Palazzo dei Giurati, the Church of the Madonna del Rosario, the Sanctuary of St Francesco of Paola, the Church of St Giacomo Apostolo, the Convent of the Carmine.
The surrounding countryside is spectacular. From Capo di Milazzo one can enjoy fabulous views across the landscape as far as Mount Etna, the Bay of Tono and the Lighthouse. The area of St Lucia del Mela with its Cathedral, Castle and Palazzo Vescovile, and Roccavaldina with its magnificent Palazzo Valdina are well worth a visit.
Milazzo: suggestions from the hotels
Pierpaolo Tiretti
(Responsabile relazione pubbliche)
5 Star Hotels

Vulcano island is the holiday destination of choice for a lot people by its therapeutic sulphur mud baths and steaming hot springs for the opportunity for a few truly relaxing days. Is a very romantic place!! (Therasia Resort sea & spa) →
Milazzo: places to see in the area