Hotels to remember: Pantelleria
Pantelleria: introduction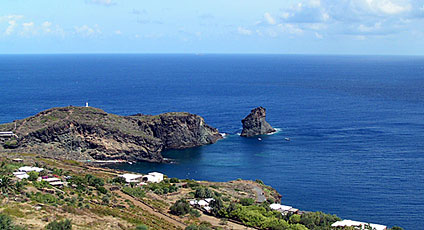 Pantelleria gained its place in the history books, and came to preserve so many sites of archeological interest due to, its strategic position. Historic sites include Muro Alto, the longest stretch of prehistoric wall in the Mediterranean. Then there is the Acropoli, the Barbacane Castle, the Village, the funereal monuments otherwise known as Sesi, and the bell cisterns.
Other sites of interest include the Nature Reserve of the Montagna Grande, considered to be the green lung of Pantelleria and home to the rare birds and an uncommon Greek Tortoise. In the park one can explore the ancient walkways, the Contrade Contadine, and visit the Lake Specchio di Venere, the Thermal Springs, the Piana di Ghirlanda, the Byzantine Necropolis, the Arco dell'Elefante and the Capperificio.
Bathing areas include: Campobello, Karuscia, Kattibuali, Cala dei Cinque Denti, the Laghetto delle Ondine, Cala Gadir, Cala Tramontana and Cala Levante. Local gastronomy features Pesto pantesco, Sfinci, Cassateddri, Pasticciotti, Canateddro and Sciakisciuka.
Pantelleria: suggestions from the hotels
Elia Rodo
(Manager)
B&B and Homes

Eight traditional Sicialian dammusi accommodations, steps from the three pools - freshwater, eco, and whirlpool - and the sea. The large outdoor areas guarantee maximum privacy, and air conditioning and heat maximum comfort. (Relais Euterpini) →
Gessica Silvia
(Responsabile Ricevimento)
Historical Residences
Pantelleria has its own personality and to know it we have to mix with its people, shopping at the local shops, in short, LIVING IT! Resort Acropoli give you the chance "to live" Pantelleria and "feel at home" (Resort Acropoli) →
Daniela Patanè
(Proprietaria)
Resort

A perfect place to spend a relaxing holiday and conciliation with nature and with the physical well-being. (Le Lanterne Resort) →
Pantelleria: places to see in the area