Hotels to remember: Valley of the Temples
Valley of the Temples: introduction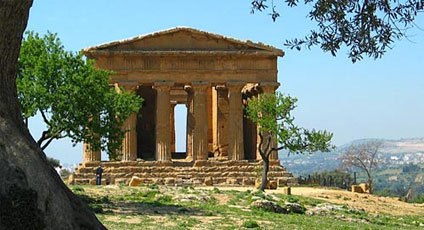 In the area to the extreme South of Agrigento, stretched out on a ridge, known as "Valle", one finds the Valle dei Templi, the origins of which date back to the 5th century BC. The Valle consists of a series of temples which were built to symbolize the prosperity of the city. The only temple to remain intact is the Tempio della Concordia.
All of the temples face East, according to Classical criteria, in both Greek and Roman times, and are all built in the Doric and Estastil style, with the exception of the temple dedicated to Zeus.
The buildings which make up Valle dei Templi are: the sacrificial alter, the Temple of Zeus Olimpio, the Temple of Castore and Polluce or of the Dioscuri (symbol of Agrigento), the Temple of Efesto, the Temple of Eracle (Ercole), the Paleochristian Necropoli, the Temple of the Concordia (the best conserved), the Antiquarium of paleochristian Agrigento, the Iconographic Antiquarium of the Collina dei Templi, the Temple of Hera Lacinia (Giunone), the Tomb of Terone and the Temple of Asciepio (Esculapio).
Valley of the Temples: suggestions from the hotels
Emerico Amari
(Proprietario)
Small Boutique Hotels

Selinunte: a unique landscape suspended between the intense blue of the Mediterranean sea and sky. A land dotted with number of treasures, some of which are so well hidden that only the most fortunate of visitors will be able to find them (Baglio Villa Sicilia) →
Valley of the Temples: gourmet addresses
More suggestions and useful addresses
Valley of the Temples: places to see in the area