Hotels to remember: Palermo
Palermo: introduction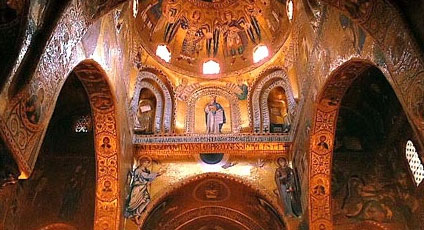 The capital of Sicily, Palermo, derives its name from the Greek "panormus", meaning "all port". Through history the city has been conquered by the Phoenicians, the Greeks, the Romans and the Arabs, the civilizations of which have all left their mark, and contributed to its great architectural and cultural importance.
Among the many monuments, there are numerous buildings of great significance such as Palermo Cathedral, the Norman Church of St Giovanni degli Eremiti, the Church of St Maria dell'Ammiraglio, also known as Martorana, the Church of the Magione, Palazzo Abatellis, Theatre Politeama and the Sicilian Regional Gallery.
A visit to the Massimo Theatre, one of the largest and most prestigious theatres in Europe, should be on every tourist's itinerary. Many artists, poets and writers have cited Palermo in their works, amongst these are Petrarch, Dante, D'Annunzio, and Wolfgang Goethe, who proclaimed Palermo to be "a land of indescribable beauty".
Palermo: suggestions from the hotels
Giacomo Vena
(Sales Manager)
4 Star Hotels
Palermo is a town of a thousand colors, flavors and fragrances, you will learn to love and to discover the many faces that offers its visitors. (Palco Rooms&Suites) →
Tommaso Rizzuto
(Amministratore - Proprietario)
Farmhouse Holidays

Thanks to its location right in the heart of Sicily, Masseria Susafa is an excellent base for a culture-rich holiday spent visiting Cefalù, the towns of the Madonie (Polizzi Generosa, Petralie) and Sicily's splendid capital, Palermo... (Masseria Susafa) →
Palermo: gourmet addresses
Palermo: places to see in the area