Hotels to remember: Egadi Islands
Egadi Islands: introduction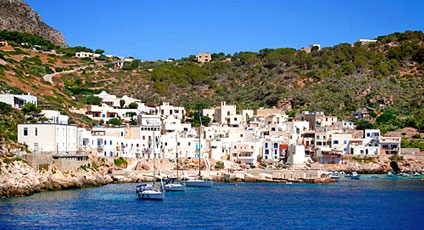 The Egadi Islands lie off the Western coast of Sicily. These Islands have been a Marine Nature Reserve since 1991. The historical and archeological importance of the Archipelago of the Egadi Islands dates back to the famous battle of the Egadi Islands in 241 B.C. Numerous remains have been found here, the most important of which has to be the Nave Punica, now at Baglio Anselmi, Marsala.
The archipelago is comprised of 3 islands and 2 islets. Favignana is the largest island, famous for tuna fishing. Favignana's residential area is built on Cala Principale, between Punta S. Nicola and Punta Faraglione. Levanzo, the smallest island, is famous for the Grotta del Genovese. Its inhabited area is Cala Dogana. Marittimo is the oldest, and most mountainous of the Egadi islands, as well as the most distant; its urban center can be found on Punta San Simeone.
Finally, there are the two islets: Formica, where one can find the traces of an abandoned tuna fishery, transformed in to a rehabilitation center; and Maraone, to the West of Formica, which is inhabited exclusively by sea gulls.
Egadi Islands: suggestions from the hotels
federico montalto
(proprietario)
B&B and Homes

Ideal stopover to visit all the sites of archaeological and landscape of the province of Trapani. Visit of the cellars where wine is produced Marsala. Charter or scheduled ferries to the Egadi Islands. The kitchen area ......... (Baglio Spanò) →
Egadi Islands: places to see in the area