Snorkelling Sicily
The Hidden World Beneath the Surface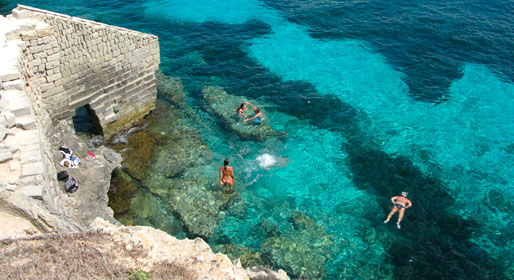 Sicily is well-known for its beaches. The long stretches of sand at places like Fontana Bianca and Mondello draw large crowds of sun-worshippers in July and August - and rightly so. However, there is another side to Sicily's beach life. An element which those who stay on the sand don't see. It's time to put on your snorkel mask and get below Sicily's surface, to discover the secret world hidden underneath the water.
What You'll See Under the Sea
One of the most striking fish you're likely to see, with its brightly-coloured, patchwork-patterned scales, is the donzella, or rainbow wrasse. It's a gregarious little thing and not at all afraid of human contact. In fact, if you head into the water from a rocky beach and stand still a moment you'll probably find a crowd of them swarming around your feet to nibble at the algae you've just disturbed underfoot.
Similarly, the occhiata (saddled seabream) and salpa (salema porgy) are both unafraid of humans. Occhiate, in fact, are actively curious and will swim right up to you to get a closer look. They're pretty fish with silvery scales, and a trademark black spot where their tail joins their body. Maybe this spot is where their name came from? Or it could be from their matching, prominent eyes.
While occhiate tend to swim close to the surface or in the middle depths of the water, salpe usually swim further down. They don't look like much at first - just another group of silver fish swimming in a large pack. However, when they change direction and their scales catch the light, the silver becomes electric blue. They also have bright yellow lines running horizontally along their bodies, like luminous go-faster stripes - they're dandies in disguise, these ones!
Harder to find, due to its habit of hiding under rocks when it senses disturbance in the water, is the sarago. This one name covers two different seabream - the common two-banded and the white. Saraghi come from the same family as occhiate and salpe, so they sport the same tail spot as an occhiata. However, they will also have either a distinct band of black behind their heads (common two-banded), or a spot, a band and slim black stripes running from their backs to their midsections (white). The two-banded seabream also has similar blue and yellow highlights to the salpa.
Other less common finds include ricci (sea urchins), marzapani (parrotfish), starfish and octopus. However they can all be seen - sometimes in large numbers - if you head to Sicily's natural reserves or protected marine areas, where fishing is either curtailed or banned, and the water is clear of polluting engine oil and diesel.

Best Snorkelling Spots around Sicily
At La Riserva dello Zingaro, to the west of Palermo, the beaches are situated along a 7km stretch of protected coastline, in successive pebbly coves. They can be accessed only on foot, so be selective as to what you carry with you, and wear shoes suitable for scrambling along dusty, rocky paths. Entrance costs ¤3. Whichever beach you choose, you'll find caves and underwater grottos, all decorated with multicoloured algae, anemones and sponges. You can also see red coral in areas of deeper water, and myriad fish flitting in and out of the algae and sea grass.
Nearby you'll find
Tonnara di Scopello
, a one-time tuna fishery. Access is down a moderately steep path, and, again, entrance costs ¤3. There's also a
dive centre
, featuring an underwater 'museum' - a guided dive to about 18m in which you can see ancient amphorae from different periods of history. For those who prefer to stay on the surface, however, there's easy access to the water from the old slipway, and the clear water is teeming with fish. Head out towards the
sea stacks to the left of the tonnara for the best snorkelling
.
Another historic group of sea stacks, the Isole dei Ciclopi sit 400m off the coast of Acitrezza, near Catania. The legend goes that they came to be in this spot when the man-eating cyclops Polyphemus launched them, in a fit of rage, at Odysseus - who had just blinded the giant in order to escape his clutches. It's possible to swim out to the stacks, or you can hire kayaks and wedge them on the rocks while you explore underwater. There is also a regular rowboat ferry to La Isola Lachea, the largest of the group.

Near
Acireale
you'll find
La Timpa
, which is a steep cliff dropping near-vertically from coast road SS114 down to the tiny village of Santa Maria La Scala. There are two ways to reach the sea -
by car or on foot
. By car is less strenuous - but the views when you park at the top of the cliff and walk the steep, switchback path to the bottom are breathtaking. Head past the small solarium and out to the rocky breakwater, where the road running through the village comes to an end, to find the best snorkelling area. When the sea is calm you'll see
fish galore in the water
, while thick vegetation on the cliff provides a
haven for twittering birds
, as well as a background soundtrack of
swishing bulrushes and a hidden waterfall
.
Finally, south of Siracusa, there is a stretch of coastline called Plemmirio. It's virtually unknown to all but those who live there, and the beaches are deliciously peaceful. Large portions of Plemmirio are characterised by what are known as 'trottoir a vermeti' - flat, rocky pavements formed by vermetidi molluscs, around which the water is shallow and warm, and perfect for snorkelling or wading to see what you can see. The Punta Milocca and Punta della Mola zones are the best bets for snorkelling; if the sea is choppy on one side of the peninsula due to strong wind, cut your losses and go to the other, where it's likely to be glassy calm.

Our Insider is
Could you be our next Insider? Share your love of Italy by contributing to ItalyTraveller! See how!