Palazzo Tolomei
(Historical Residences) Firenze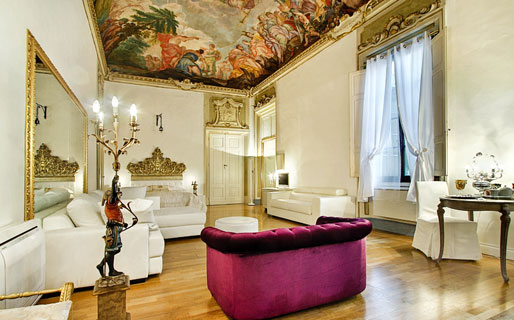 Palazzo Tolomei
+39 055 292887
Art and history in Florence (where else?)
Three reasons why you'll love it here

A night in what was once Leon Battista Del Chiaro's Florentine home
Frescoes by Alessandro Gherardini and Giuseppe Nicola Nasini
A period residence within steps of Michelangelo's David
Right in the very heart of Florence, Palazzo Tolomei is a beautiful period property, only recently transformed into what is, arguably, the most gorgeous guest house in the whole of the Tuscan capital.
A labor of love
In 1695, to celebrate his marriage to Maria Ugolini, the wealthy Florentine goldsmith Leon Battista Del Chiaro enlarged the family's town house in Via Ginori and embellished its interiors with a series of incredibly ornate frescoes and stuccoes.
Palazzo Tolomei's large frescoed halls, suites, and apartments still conserve great deal of their original renaissance appeal, an appeal which, over the years, has been increased yet further by the addition of important art works such as Giovanni Baratta's statue of Diana, and elaborate frescoes by Giuseppe Nicola Nasini and Alessandro Gherardini.
Renaissance charm, contemporary comfort
If you're looking for a luxurious bolthole in downtown Florence, you're going to love Palazzo Tolomei, with its sumptuous suites and apartments - all of which feature a pleasing combination of period furnishings and the very latest in modern technology.
Air conditioning, hydromassage baths, and high speed internet connectivity are standard amenities in all categories of room

Frescoes & fitness in Florence
During the day, Palazzo Tolomei's public rooms provide the perfect environment in which to relax, chatting with other guests or simply reading a good book.
Fitness fans will no doubt be thrilled to discover the guest house's well-equipped gym where, surrounded by beautiful frescoes, they can participate in aerobics, step, yoga or pilates classes.
Palazzo Tolomei
Via dè Ginori 19 nero

-

50123

Firenze

(Firenze)
Tel.

+39 055 292887
Palazzo Tolomei amenities
Rooms
Internet connection
Air Conditioning
Minibar
Safety deposit box
Hair dryer
Bathroom with hydromassage bath
Wellness
Food and drink
Tastings of typical products
Various
Car park
Laundry
Baby sitter