Fall feasts in Tuscany
In the Upper Tiber valley in search of mushrooms, chestnuts, new oil and wine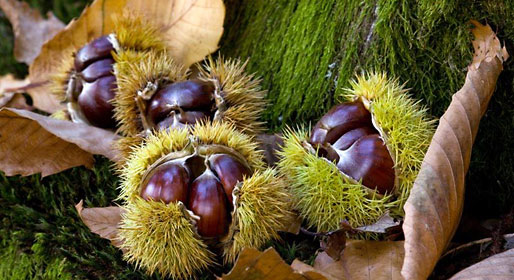 November is the time of year when the "Festa dei Bringoli e di San Martino" is held.in the Tuscan town of Anghiari in the Upper Tiber Valley..
The Flavors of Fall
This year's festival, a celebration of the flavors of Autumn, will be held on the 8th and 9th of November. "Bringoli" is the name for the town's fresh, handmade spaghetti, usually served with porcini mushrooms and wild boar sauce.
During the festival, you'll have the chance to sample mushrooms, chestnuts, the year's new wine, and "brustichino": slices of Tuscan bread, toasted and served with freshly pressed olive oil and sausage.
Dinner in the Tower!

Anghiari's Da Alighiero restaurant, in Via Garibaldi 8, is located inside a medieval tower in the center of the town. Here, guests dine beneath exposed wooden beams, savoring the finest Tuscan food and wine. In autumn, dishes prepared with the area's porcini mushrooms and truffles inevitably steal the show...

Extra Delicious, Extra Virgin Olive Oil
Just a few kilometers away from Anghiari along the road leading to Caprese Michelangelo, the Ravagni olive press (Tel +39 0575 789244) is one of the oldest olive mills in Italy. First recorded mention of the Frantoio Ravagni dates back to 1421 and today the oil is made exactly how the Camaldolese monks made it in the past: using only the finest hand-picked olives, which are cold-pressed and then decanted manually.
Treat Yourself to a Taste of the Past
Crossing the regions of Tuscany, Marche, Umbria, and Emilia Romagna, the Tiber Valley is a gastronomic paradise. In addition to Anghiari, there are six other towns in the valley which continue to conserve the elsewhere forgotten culinary traditions of the area: Badia Tedalda, Monterchi, Pieve S.Stefano, Sansepolcro, Sestino, and Caprese Michelangelo.
Caprese Michelangelo is particularly worthy of a visit, not only because it was here that the great Renaissance artist was born, but because the town's hand-harvested chestnuts are, quite possibly, the finest in the world!
Get your chestnuts and stone ground chestnut flour here: Cooperativa Valle Singerina - Loc. Capanno dei Romagnoli Tel: + 39 0575 793870