A Gastronomic Adventure in Sicily
Eating your way through Sicily, one cannolo at a time.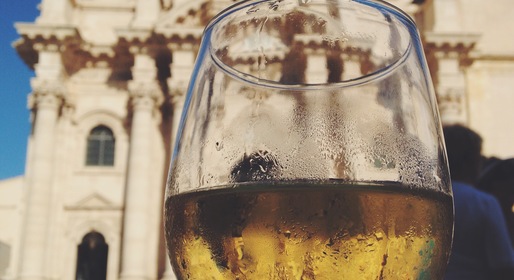 "You must go to Sicily," my foodie friends said. People mentioned the sunshine, the beautiful old towns and the beaches, but it was the food they came back to, often with a slightly obsessive tone of longing in their voice.
After languishing on my to-visit list for nearly a decade, I finally got round to visiting in September. Before I went, I joked that I was planning on eating my way through all the Sicilian food.
Once I arrived, the joke quickly became reality.
Over 10 days I made it my mission to taste as much food as possible, but I quickly discovered one big problem: I don't eat fish and Sicily is a pescetarian heaven. Still, after some careful menu scanning I savoured some of the best non-fishy food the island offers, from luscious cannoli to sophisticated arancini.

Coffee and cannoli: power up your day
Tea drinkers need not apply: Sicily is the place to hone your coffee appreciation skills. And a strong espresso is just what I needed to cut through the sometimes tooth bending sweetness of Italian pastries.
Lazy mornings were whiled away in cafes, espresso cup in one hand, a cannolo in the other. Cannoli are Sicily's signature pastry, crisp pastry shells filled with flavoured, sweetened ricotta. In the spirit of enquiry, I determinedly ate my way through as many varieties as possible.
Top place was fiercely fought out between the one with dark chocolate chips studding its filling and a pistachio and almond delight that I savoured in Caffé Prestipino in Catania. The pistachio won, although that also might have something to do with the café's location.
Tucked away between the cathedral square and university, it's a fascinating place to people watch a combination of tourists, students, and locals against a backdrop of classic Italian architecture.
Arancini: Sicily's favourite street food
Sicily's favourite street food snacks are named after their resemblance to small oranges. Whether round or cone-shaped, the crunchy coating gives way to a ball of saffron-flavoured rice wrapped around a satisfyingly gooey filling.
Friends told me that the arancini I tasted in Sicily would never be bettered outside the island. After somewhat lacklustre experiences with Guinness in Dublin and pizza in Naples, I was a bit cynical. Sure, I expected them to be nice but not to blow away the ones I've tried in the UK. For once though, reality lived up to the hype.
Classically they're stuffed with ragu, mozzarella, and peas, but for me the king of arancini came with an aubergine, cheese, and pistachio filling, served on a bed on crushed pistachios.
Go upmarket and have them as a substantial appetiser at a restaurant or buy them from a café, wrap them in napkins and devour them on the street.
Granita: ice has never tasted so good
At the risk of sounding like a sceptic, I wasn't sure what all the fuss was about granita. Fruit juice and sugar over crushed ice didn't sound that impressive, a bit like a deconstructed version of my childhood ice lollies.
A few days of exploring when the temperatures were in the early thirties was enough to make me reconsider. When it was so hot that ice-cream seems too sticky, a tub of zingy, ice-cold lemon granita was the perfect accompaniment to walking through Ortygia's narrow, labyrinthine streets or Noto's magnificent Baroque corso - which according to Lonely Planet is the best place in the island for gelato, sorbetto or granita.
Most places serves your granita with a straw as well as a spoon and while it seemed a bit strange to me the first time, five minutes later when the ice was melting I discovered I was drinking a much tastier, grown-up version of slush puppy.
Wine with a view
Visiting Sicily wasn't just about exploring, it was about taking the time to stop and soak up the atmosphere. And savouring one of the many truly excellent local wines on offer at local cafes is the perfect way to do this.
By far my top late afternoon wine quaffing spot was Caffè del Duomo in Syracuse. Normally the café's stunning view of the city's Baroque cathedral, built around an ancient Greek temple, would count against it, making me expect over-priced, mediocre food and drink.
But it was recommended by a local friend and my generously sized glass of white was crisp, refreshing, and very reasonably priced. Even better, it came with a complementary plate of savoury snacks, including very moreish stuzzichini (mini pizzas) and a Sicilian take on sausage rolls, rolled up slices of flavourful prosciutto wrapped in puff pastry.
Pasta alla Norma
Aubergines aren't officially Sicily's icon, as leeks are for Wales, but they could be. As a non-fish-eater, pasta alla norma was my dinner time stand-by. It's something that all the guides say you need to try and in the best tradition of Sicilian cuisine it makes a few simple ingredients - tomato sauce, aubergines and salted ricotta - into a stand-out dish.
By far the best pasta alla norma I tried was at O Scina, tucked down a calle in Ortygia, Syracuse, coming with a generous servings of juicy aubergines and ricotta shavings. I managed to get there early enough to bag a table outside and eat under the stars. Coupled with a robust Nero d'Avola and followed by a pistachio studded tiramisu, it was the kind of meal that becomes a favourite holiday memory.
Our Insider is
Could you be our next Insider? Share your love of Italy by contributing to ItalyTraveller! See how!